UA medical students will discuss abortion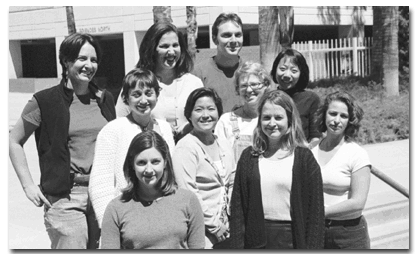 Randy Metcalf
Arizona Daily Wildcat
University of Arizona medical students involved with the group "Medical Students for Choice" pose outside of UMC yesterday afternoon. The students, who are advocating to hold a discussion about abortion this month in one of their classes, asked that their names be withheld for safety concerns.
Topic will be a part of medical classes for the first time in 8 years
The topic of abortion will return to UA medical classes this month, in an attempt to salvage a part of the education that was cancelled eight years ago because it was deemed ineffective.
A group of medical students have been lobbying to bring the subject back to the University of Arizona, and this month a class will hold an informational discussion about abortion.
The two-hour discussion session about abortion will touch on subjects like how to counsel patients who have been affected by abortions, how to talk to women about their options and how to inform them about available resources.
Larry Moher, one of the University of Arizona class's three directors, said the decision to bring the abortion topic back into the social and behavioral science class came about because of students' requests.
"It wasn't a big deal when they asked to put something in," Moher said.
He said the abortion topic was dropped from the course years ago because student feedback stated it was unproductive.
The old abortion session was split into a pro-life and a pro-choice discussion, which was ineffective in teaching about counseling methods, Moher said.
"The truth was - it was not a controversial thing at the time it was dropped from our course," said Moher, who is also the assistant dean for student affairs for the College of Medicine. He added that other topics have been dropped from the class during the years without much "fanfare."
He said the class handles other controversial issues as well such as rape, domestic violence, elder abuse, child development and malpractice.
"There are always people who have an opinion one way or the other," he said. "This is life we're talking about."
Mehri McKellar, founder of the UA's chapter of Medical Students for Choice, said she wanted to learn about how to counsel patients regarding abortion to receive a comprehensive education.
"There are so many women out there who've had an abortion, who are thinking of an abortion - you're going to need to know about this," said McKellar, a fourth-year medical student.
She said she does not want the session to be about politics or morality.
"Whether you're pro-choice or anti-choice it doesn't matter," she said. "It's a legal procedure - we're going to have to know about it."
Medical Students for Choice Executive Director Patricia Anderson said her non-profit organization formed after Dr. David Gunn, an abortion provider, was murdered in Florida.
Anderson said one of the club's missions is to help medical students on college campuses work with administration to receive abortion education. She said the organization has formed on about 100 campuses in United States and Canada.
Elizabeth Schultz, one of next year's co-directors of the UA Medical Students for Choice, said about 1.5 million women in the United States have an abortion each year.
"It's something that just affects so many people," said Schultz, who is also a first-year medical student. "It's such a widely done procedure."
She added that the College of Medicine administration has been supportive of the Medical Students for Choice's effort to incorporate abortion education into the curriculum.
She said her organization will probably ask for feedback from the students after this month's two-hour session.
Moher said he wants UA medical students to receive education about abortion because about 43 percent of women in the United States will have the procedure by the time they turn 45 years old.
"It affects a huge number of women who are going to be their patients," Moher said.
He said even though about 90 percent of medical students will not end up providing abortions during their careers, they still need to understand how patients are affected by it.
Atsuko Koyama, one of next year's co-directors for Medical Students for Choice, said she is confident the abortion discussion session this month will be productive and not a debate.
"By now, we all know where we stand in terms of abortion issues," Koyama said. "But as physicians it is important to understand the options."
She added that she is pleased that the College of Medicine administration has asked for their input for the session.
Pippa Newell, a first-year medical student, said she is "guaranteed" to treat a patient in her career who has had an abortion or who is considering an abortion.
"It's not about whether I believe in it or not," said Newell, also a member of Medical Students for Choice. "It's about I'm going to encounter it as a doctor."
She said she suspects that the abortion discussion might be expanded more than two hours next year if student feedback requests it.
Newell added that about 15 medical students participated in a forum about abortion in January after the Roe vs. Wade 27th anniversary.
"It was such a success," she said. "Everybody was just amazed how mature we discussed things and how productive the meeting was."
She said that forum proved the medical students can discuss abortion in an "non-aggressive fashion" and that she hopes the April class discussion can be as productive.
Anderson said 86 percent of counties in the United States do not have an abortion provider.
"What we're seeing is many of the physicians that are doing abortions now were trained pre-Roe vs. Wade," Anderson said. "Many of them are in their 60s and 70s and ready to retire and looking for a new generation to come in and fill their shoes."
Angela Jackson, Arizona Right to Life Tucson Chapter spokeswoman, said the UA social and behavioral class discussion will help medical students treat women better when they become doctors.
"We are always open to truthful, honest and factual information about abortion," Jackson said. "We hope the instructor will be preventing both sides factually."
Virginia Yrun, president and CEO of Planned Parenthood of Southern Arizona, said she wanted to commemorate the students who worked to have the abortion discussion.
"There is an obligation to do full training at a medical school," Yrun said. "This is an important part of women's health."