Kin of Kings present origin of traditions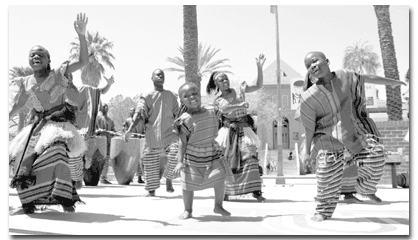 Aaron Farnsworth
Arizona Daily Wildcat
Members of the Children of Uganda perform on the UA Mall Monday. The performance was part of the Drums Across Cultures Diversity Celebration put on by the UA's five minority departments.
Dances provide a look into original traditional dance, global dilemma
Demonstrating ancestral traditions, the Children of Uganda - all of whom are orphans - presented a sense of their culture to about 200 University of Arizona community members yesterday.
The 15-minute presentation delved into the "continuity, unity and spirituality" of diversity, said Mai Luc, interim coordinator for Asian Pacific American Student Affairs.
The troupe of about 18 children - ages 4 to 17 - tour about every two years, wearing non-traditional costumes and singing songs composed of their cultural heritage, said Alexis Hefley, executive director and founder of Uganda Children's Charity Foundation.
About 10 instruments were used - four of which were drums - including a harp, fiddle, and African xylophone.
The Children of Uganda provided the first installation featured in the fourth annual Drums Across Cultures celebration, sponsored by Multicultural Programs and Services.
Each of the performances throughout the week will include a drum element because "every culture has a drum tradition," said Saundra Taylor, UA vice president of Campus Life. She added that drums are "a common tie among cultures while participating in diversity."
The celebration of cultural traditions will continue throughout this week, with a feature from a different multicultural program each day.
The children vocalized in Swahili, Luganda (their native language) and English while swaying barefoot in motions of traditional dances that belong to African lands, such as Rwanda and Zimbabwe, Hefley said.
Hefley added that Americans tend to group aspects about various traditional culture together, but the Children of Uganda will present an authentic dance, straight from the source - Africa.
Choreographer Frank Katoola told the crowd that the origin of the dance belongs to the people in central Uganda - the Buganda.
It originated in the Kingdom of Buganda in Uganda during a wine party for the king. The king began walking and talking in a slur typical of drunkenness, Katoola said.
To avoid slandering the king, the men mimicked the sound of his voice with the beat of the drum and the women imitated his body movements with the sway of their hips.
"I created different movements from the traditional dance, so it's in the traditional set up, but the choreography is different," Katoola said, adding that there is a total of 12 dances.
Seemingly oblivious to their country's misfortune, the children smiled and winked in a subtle interaction with the crowd during their performance.
Hefley told the crowd that the children, posing as "ambassadors for their culture" come from a culture where $300 is the basic annual income and living off of $1 a day is typical.
She added that of about 20 million inhabitants, 1.4 million are orphans.
Onlooker Vanessa Stedronsky, an English freshman, said she felt overwhelmed by the courage of the children.
"They're so happy, and they have nothing," she said through tears. "We take everything for granted, and it makes me feel fortunate."
Stedronsky also said she was very happy to see people of so many ethnicities enjoying the celebration, adding that it proves ethnicity does not matter, but Americans should feel fortunate for their luxuries.
Hefley said that despite what many people may think, the children are not very much like American children.
Faced with a curtain of demise, the children's homeland has been plagued with AIDS, Hefley noted, and more recently, a religious cult-massacre in southwest Uganda.
"In many ways they are not similar to American children because many of them have lost both of their parents to AIDS," Hefley said. "In Uganda it's about children raising children, but they like ice cream, McDonalds, Wendy's and pizza."
"But it's not a part of their culture, it's a racial adjustment," she added.
Luxuries Americans have that Ugandans are not accustomed to include a certain type of clothing and shoes with thick soles, she said, adding that the second hand market is the primary source for clothing.
They do not, however, allow this to interfere with their presentations, said performer Sarah Namatovu, 15.
"When we appear on stage you have to keep out all of your conflicts, and you have to keep it away because you are a performer to appear on stage," Namatovu said.
She added that she enjoys dancing because it is a chance to "share my culture with them, to share my love with them."
Sonny Suchdev, a UA sociology junior, said that although he has tickets to tonight's performance at Centennial Hall, he wanted to get a taste of what he was in for.
"It was very uplifting and different from the performances I've seen," he said. "There is a lack of information on the African culture, and it's important to everyone to learn about each other's culture as well as your own."