Heavy load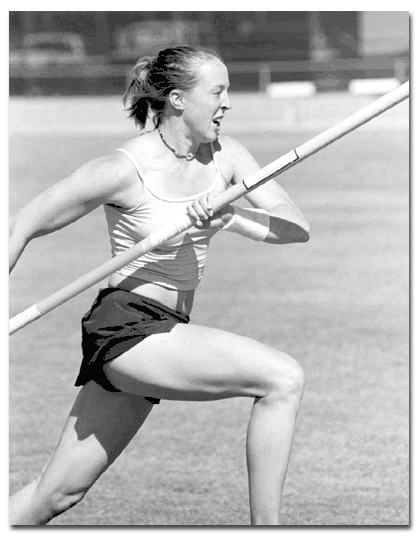 Ian C. Mayer
Arizona Daily Wildcat
UA junior Andrea Neary practices pole vaulting at Roy P. Drachman Stadium Thursday. Neary has broken the school record in the pole vault five times this year and has the second highest vault in Pac-10 history.
Neary maintains a 4.0 g.p.a. while dominating in the pole vault for UA track team
Junior Andrea Neary's to-do list - 1. finish projects in physiology and molecular cellular biology 2. pick out flowers for wedding 3. review for chemistry midterm 4. attend awards luncheon 5. lastly, break the school record in the pole vault.
With two majors and a minor, a summer wedding to plan and numerous other activities, an average student wouldn't even think about trying to add on any additional pressure in their life.
That's not the case for Neary, who also squeezes in time to compete in the pole vault for the UA women's track and field team.
"Just take it one day, one thing at a time," Neary said of her busy schedule. "As I look at it, there's 24 hours in a day, I sleep eight, I work out three to four (hours) and classes take up four to five (hours), that still leaves eight hours to take care of other things."
This alone can be considered a major feat, especially considering Neary's heavy workload, but she also maintains a 4.0 g.p.a. And, on weekends, she likes to rewrite UA record books.
In the last seven meets, including Saturday's Jim Click Shootout in Tucson, Neary has broken the school record in the pole vault five times. Her coach, Tom Hays, however, expects even better things from this rising star.
"She's a lot taller and faster than most and has a good chance to go very high in nationals," Hays said. "She's capable of going a lot higher. We've only seen a little of what she can do."
More impressive is the fact that this season marks only the second year Neary has been competing in the pole vault.
"I felt that last year was really a learning experience, figuring out how to do the basics," Neary said. "Now I feel like I'm fine tuning the things I know."
Helping Neary in her quest for improvement is fellow Arizona pole vaulter and fiancee, Jeff Dutoit.
A three-time All-American in the event, Dutoit has taken special notice to Neary's development in the event ever since she started back in the spring of 1998.
"Andrea is a great inspiration to everyone," Dutoit said. "She shows how a person can accomplish anything if they just put their mind to it."
Now days Neary ranks as one of the premier woman vaulters in the country.
Her school record mark of 13-feet 1-inch at the Jim Click Shootout ranks second in Pac-10 history, and also stands as the second best vault this outdoor season. The mark also qualifies her to attend the 2000 Olympic Trials later on this summer, in Sacramento, Calif.
"I am really excited about it, it was one of my main goals this year since they are coming up this summer," Neary said. "Right now I am expecting to go there and win."
Now that she's earned a berth to compete in the 2000 Olympic Trials, Neary will start getting ready for the rest of the track season and the NCAA Outdoor Championships.
With all of the recent success, Neary now sees herself mentoring the younger pole vaulters on the UA squad who are now in the same position she was about two years ago.
"She's amazing, not just with her vaulting but with who she is. She's really, really nice," freshman pole vaulter Sara Jacobs said. "She motivates me with her vaulting, but even aside from athletics, with the way she also handles academics."
Neary's plans for this summer will not allow her much down time. Aside from the 2000 Olympic Trials, she plans to tie the know with Dutoit, plan for the start of her final year of school at the UA in the fall, all while applying to medical school and preparing for her final year of eligibility in track.
"I think I keep pretty busy but I know that it's all been worth it," Neary said.