'Tour of Light 2000' plays tonight at Centennial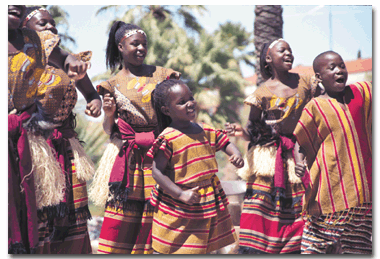 Aaron Farnsworth
Arizona Daily Wildcat
The Children of Uganda give a preview of their dance moves on the mall. The group will perform at UA Centennial Hall tonight at 7:30.
Dance show benefits Ugandans orphaned by AIDS
In a nation with 1.4 million orphans, members of The Children of Uganda have kept hope alive through traditional African music and dance in the "Tour of Light 2000," playing tonight at UA's Centennial Hall.
While the performance includes songs and dances in Swahili, English and native Ugandan dialects, Deirdre Valente, the company's general tour manager, said the appeal is universal.
"They come from very different circumstances than American children," she said. "The show is also a great opportunity for kids to interact with kids."
Tonight's program combines traditional tribal and royal dances from across Uganda and the neighboring nation of Zaire. However, they maintain a modern feel.
"The dances are not museum pieces," Valente said. "They are living and contemporary to the culture - which is important because so many parents (in East Africa) are dying."
Frank Katoola, the program's choreographer and artistic director, said the Ugandan performance incorporates a different style, unlike typical West African dances which include quick motions and acrobatics.
"In East Africa it is a vibrational movement of the whole body," he said. "The body is setup mostly along the waist and below. It is centered, springing from the knee, and it gives the dancer freedom to move the body."
Katoola also operates a performing arts magnet school that serves as a recruiting ground for the troupe.
Members of The Children of Uganda, who range in age from 4 to 17, spend three months a year touring the United States to raise money for their orphanage.
"It's important to the children to be able to share their culture, tradition, history - where they are from and how they celebrate," said Alexis Hefley, founder and executive director of the Uganda Children's Charity Foundation.
Formed in 1994, the foundation organizes goodwill tours and donates 80 percent of their profits to the Daughters of Charity Orphanage, located in Kampala.
"A Ugandan nun runs the orphanage and started the dance troupe because she thought it would be a good source of income," Hefley said.
Besides receiving an education, food, shelter and medical care, the children take dance classes. The orphanage maintains an ongoing troupe of about 30 kids, 18 of which travel.
"The cream rises to the top," Hefley said. "When not on tour the kids perform for weddings, graduations and visiting dignitaries.
"Volunteers are quite unusual with the AIDS pandemic. Most people are trying to survive - it's rare to see someone give of himself," Hefley added.
Besides benefiting the orphanage, proceeds from the "Tour of Light 2000" go to educating one child of HIV-positive widows with five or more children.
"These kids are orphans of AIDS, war and other diseases but their message is of hope," Valenti said. "They truly celebrate their oral culture."