SAS continues support for WRC membership at rally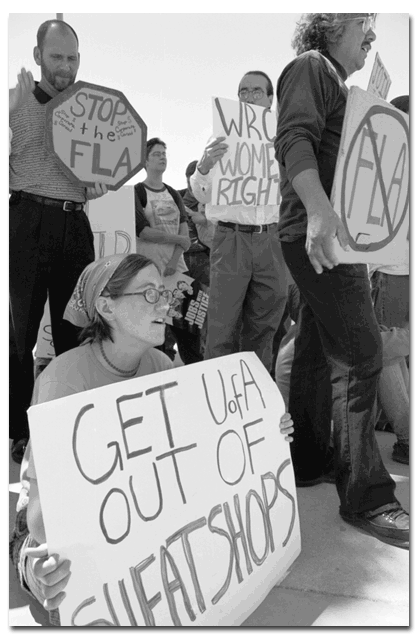 Sarah Brown
Arizona Daily Wildcat
Anthropology senior Rachel Shively cheers on a fellow SAS member, Lydia Lester at the rally yesterday in front of the Administration building. The rally, held in honor of National Student-Labor Solidarity Day, will kick off the SAS activities planned for the next three days and nights.
Likins says dual FLA, WRC membership may be possible
UA Students Against Sweatshops members kicked off their three-day educational forum yesterday afternoon - which will include spending nights in front of the administration building.
"This is not a sit-in," SAS president and spokeswoman Lydia Lester said. "We're here because we want the university to join the WRC now."
In celebration of National Student-Labor Solidarity Day, SAS set up a "College of Workers' Rights" booth, informing the campus on workers' rights and their push for UA to join the Worker Rights Consortium, a group made up of 35 universities and non-governmental organizations that plans to monitor factories.
UA is a member of another group, the Fair Labor Organization, which includes corporations, non-governmental organizations and a university representative. There are more than 130 universities in the FLA, which is under the U.S. Department of Labor.
In almost 90 degree weather, SAS members chanted, toted signs and carried out various activities, such as showing WRC support to UA President Peter Likins through signing ribbons to tie on the chain-link fence next to the administration building.
Lester oversaw the activities using a microphone, and several members of Tucson labor groups spoke in support of SAS's cause.
"Hey Likins, take a stand, worker rights, we demand," supporters chanted and cheered.
Lester also read several letters written to Likins from labor groups in support of the UA to joining the WRC.
International Brotherhood of Electrical Workers member Fernando Huerta said persistence will help SAS and referred to the University of Pennsylvania's withdrawal from the FLA after a nine-day sit-in.
"With your hard work, you'll achieve your goal," he told the crowd of about 30 people.
During the day, the members gathered around a makeshift canopy surrounded by signs supporting workers' rights. A table was set up with fliers and information for those interested in the movement. There was also a list for people who cut off their clothing tags to write down where the clothing was made.
A poster labeled "Wilbur Goes Global" had a map marking places UA-licensed merchandise is made. SAS also plastered the "Administration" sign on the lawn with posters proclaiming, "Hey Likins BEAR DOWN ON SWEATSHOPS" and the "Worker Rights Consortium" written in magic marker.
The forum comes in conjunction with Nike's decision Thursday to end its contract with Brown University because of Brown's support of the WRC. The company will no longer supply uniforms and equipment for the men's and women's ice hockey teams.
"That came as a surprise to me," Likins said.
He said UA will still stay in the FLA for now, but WRC's founding conference in New York City on Friday will determine if UA can be in both.
"I would be favorably disposed to be part of both organizations," Likins said. "As long as no one insists on inclusive membership, we'll work with them."
Already an FLA member, Columbia University joined the WRC on Friday, making the school second to Brown University to have dual membership.
Dual membership may be a possibility for the UA, Lester said.
"Certainly not as a long-term solution, but in the intermediatery period - maybe," said Lester, a linguistics sophomore.