Keeping the swing in the music scene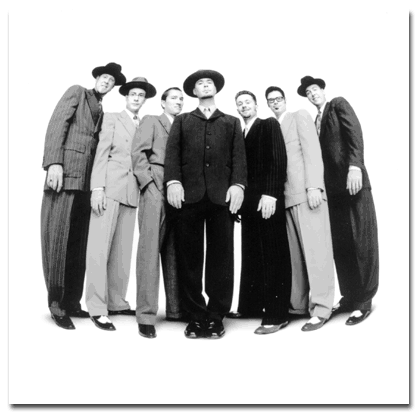 Arizona Daily Wildcat
photo courtesy of Interscope Records Currently one of the most popular swing bands on tour, Big Bad Voodoo Daddy will be playing at the Rialto Theatre on Saturday. The band just recently released its second major label album.
Big Bad Voodoo Daddy returns to Tucson Saturday night
Amidst a large shift in the alternative music scene, the members of Big Bad Voodoo Daddy continue to go against the grain, proving the market for swing music is still alive.
Despite the lack of a radio single from their latest album, This Beautiful Life, baritone saxophonist Andy Rowley said the eight-piece band is still enjoying success doing what comes naturally.
"We're just playing stuff that we like to play - and putting out good music was the bottom line for us. That's what we're going to continue to do," Rowley said. "We're still going to do what we like and music that we think is relative to ourselves, as well as to the time."
While the swing music scene reached its heyday in the early twentieth century, its legacy was revived by a small sector of southern California bands, including Big Bad Voodoo Daddy.
"At first, it was more of an underground thing," he said. "You had a rockabily crowd, a punk rock crowd, and just people who were really into different kinds of music, where they we're the ones coming out, they were the ones dancing,"
"It wasn't so much focused on the bash of the whole spectacle that the media has made of it for the past couple years," Rowley added.
After performing three songs on the 1996 hit movie soundtrack, Swingers, the band found itself at the forefront of a modern craze.
"When we started playing this music and formed the band, there was no one else doing this kind of stuff that we were aware of," Rowley said. "I mean, Royal Crown (Swing band Royal Crown Review) has been doing it for a long time underground, and they're still doing it - so we weren't jumping into a trend or trying to be part of it."
Big Bad Voodoo Daddy was one of the first bands to bring swing music back into the radio mainstream with "Swingers," singles "Go Daddy-O" and "You & Me & the Bottle Makes 3 Tonight." Their self-titled major label debut went platinum less than a year later.
Rowley said the "Swingers" singles, along with the band's 1998 Super Bowl and Orange Bowl performances, have allowed the band to reach more fans without the constant, draining touring schedule.
"We figured, short of touring every single day for a year straight, if we did just a little bit of exposure, we'd reach a larger amount of people in a shorter amount of time than we could by traveling for a year," Rowley said.
This added exposure has not only helped sell records but also reach a more diverse audience.
"You have kids bringing their parents, and grandparents bringing their grandkids - we do all-ages shows especially," Rowley said. "We can have three generations of people there together watching the shows. It's pretty diverse."
Rowley also said the revival of swing music was years in the making. Although its most recent success, now diminishing from the national spotlight, drew millions of fans into the scene, he said the band's audience has evolved since its inception in 1989.
"It's more just people coming out and discovering something that was fun and kind of an underground thing, (music) that was happening, and they were coming out to try to discover that," he said. "It was a hard core group of people who were coming out to the shows. And now it's just - from the media attention that it's gotten - it's not a bad thing. It's a great thing. A lot more people are exposed to it."
Rowley said the lack of current radio play has caused the band to rediscover its roots by playing for fans who enjoy their music rather than a mere trend.
"We don't have any radio singles, so people don't really get a chance to hear us," he said. "We like to go out and keep our name out there and let people know that we're around, even though we're not on the radio. We are still alive and kicking."
While the band's radio air time has decreased dramatically, Big Bad Voodoo Daddy can be heard frequently on television, playing the theme song for the Emmy award-winning show, Third Rock from the Sun, as well as the FOX network's advertising theme song.
Despite this, Rowley said touring is still the most important and fun aspect of performing.
"Touring allows us to - since we're not a radio hit band - go out and get to perform in front of everyone who wants to hear our music," he said. "And that's pretty much what we've been doing since day one."
Rowley said the band, which has performed for enormous crowds like the Super Bowl, prefers to play smaller venues because of the visual audience reaction.
"It's a more intimate show. You can actually see everybody in the audience, even in the back row, so you really feel that you are connecting with everyone," he said. "It's a lot of fun because of a lot of the faces around the stage really makes the band pick it up and give the people their money's worth. You're not losing faces in the light, you get to see everyone's reaction to what's happening on the stage - I think we really feed off of that."
He added that the band members enjoy restored theater venues for their aesthetic appeal, as well as the general feeling of the environment.
"We do a lot of venues and restored 20s-era theaters," he said. "It's so cool, the whole vibe of the place is great."
In the turbulent world of popular alternative music, quickly evolving into a fused, hip-hop and heavy metal direction, Rowley said Big Bad Voodoo Daddy gives a refreshing link to the past.
"It's just some of this music has been forgotten, and bands other than ourselves, as well as ourselves, have been going out and keeping people aware that there's a lot of history in American music that we're trying to get people to explore and get exposed to for the first time, which a lot of people are," he said.
"There is so much good music out there that doesn't get the attention it deserves - I'm not necessarily saying our stuff, but every thing else out there."
Big Bad Voodoo Daddy will be playing Saturday night at the Rialto Theatre, 318 E. Congress. Doors open at 8 p.m.