ILC project commences with groundbreaking ceremonies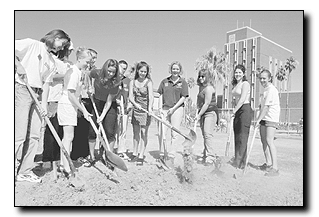 Kristy Mangos
Arizona Daily Wildcat
Pueblo High School student representative Rocio Quijada (second from right) digs the first shovel full of dirt with fellow classmates and future incoming freshmen yesterday at the Integrated Learning Center's groundbreaking ceremony on the UA Mall. The ILC is expected to be completed by spring of 2001.
By Ty Young
Arizona Daily Wildcat,
September 9, 1999
In the first of a series of ILC ceremonies, UA staff, faculty, and current and future university students braved the Arizona heat yesterday morning to usher in construction of the freshman center.
While most current UA students will have graduated before the Integrated Learning Center is complete, the next generation of potential freshmen who could benefit took part in the ceremony.
Students from local Tucson high schools were the first to break ground on the UA Mall area between the Bear Down Gymnasium and Modern Languages building.
Rocia Quijada, a junior representative from Pueblo High School, shared the hopes of future University of Arizona students.
"For when we come here, we can have a place to call home, to be safe, and know everything will be okay," Quijada said.
Also in attendance were 20 other students from Tucson area high schools. Many said they were excited about the ILC's projected positive influence on their future lives.
"I think it will be a really good change for incoming freshmen," said Desire Perez, a junior from Mountain View High School. "It will lower the rate of dropout and keep them (freshmen) informed."
Other students in attendance reflected similar opinions. Some wore T-shirts displaying the phrase "Pain is temporary, pride is forever."
In an act representative of the UA's voiced focus on future university students, the initial groundbreaking was performed by Quijada, Perez and the other attending high school representatives.
"This is a really good opportunity for future UA students," said Brandon Azuelo, a sophomore from Mountain View.
Instead of passing a baton to the future class of students, UA President Peter Likins gave a brick to Quijada. He said that it represented the future ILC and its emphasis on strong student development.
He also told Quijada to keep the brick until she returns to the completed ILC.
Guest speakers during the ceremony emphasized the importance of teamwork during the planning and future construction of the below-grade building.
"I've never seen a building conceived in such a focused way to help the students succeed," Likins said.
The ILC will be built by Target General Inc. TGI President Shawn Maurer told the crowd that he was very proud to have been chosen to handle the construction.
"We look forward to a safe and successful project for all the parties involved," Maurer said. "We really stress the team efforts amongst all parties of construction. A team is going to build this project."
Guest speaker Jim Gresham, designer of the ILC building, said he developed the idea for the ILC while vacationing in India.
He witnessed a society which used a structure called a "step-well" where community members walked down staircases to come together to socialize and conduct business.
"I'd like to think of this building, in the final analysis, as like the natives of India that descended the step-wells to gather water, that the incoming students will descend the staircases to a well of knowledge," said Gresham.
Likins later commented on the symbolic standard that the ILC represents, from conception through construction, and with its eventual conclusion.
The ILC project began in an effort to improve freshman retention rates, which was about 50 percent last year.
"It is the strongest statement of this university's commitment to being a student-centered research university that I can find anywhere," Likins said. "I don't think people can quite appreciate how significant it is. They will once it's done, when we have a chance to really impact the lives of our freshmen."
The ILC is expected to open in the spring of 2001. Construction should conclude during the previous semester.
Upon completion, the ILC will serve as the UA Freshman Year Center, currently housed in Bear Down Gymnasium. It will include four multimedia lecture halls, four classrooms, and six discussion rooms.
Computer commons will also be built, which will give direct connection to e-mail services.