ASUA senators support smoking ban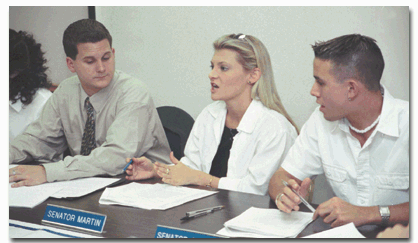 Arizona Daily Wildcat
Executive Vice President Ben Graff, left, Sen. Amanda Martin and Sen. Ray Quintero discuss the proposed university smoking ban in the Memorial Student Union last night. The senate approved a resolution on the smoking proposal that was created by Sen. Martin.
Senate also cuts over $4,000 from future paychecks
The ASUA Senate last night unanimously approved the proposed changes to the UA smoking policy, which will require smokers to be at least 25 feet from all university buildings.
The senators expressed their support for the proposal, which will also ban smoking from university vehicles.
Sen. Shane Brogan said the proposed smoking changes will only benefit the health of the students.
"I just have to say I really support this," Brogan said. "There's no other action you can do outside a building that can directly harm someone going into a building."
While Executive Vice President Ben Graff was in support of the proposal, he said more students should have been involved in the discussion.
"I would have liked to have discussed the proposal with people who do smoke," Graff said.
Graff stressed that it is never too late to get students' opinions on the issue when ASUA is on the mall.
Melissa McGee, health educator for UA Campus Health, said the members of her organization wanted to get input from different areas on campus before presenting the policy to UA President Peter Likins.
"Basically, when we take this policy to President Likins, we want him to know that we informed several government bodies," McGee said.
Along with presenting the policy changes to ASUA, Campus Health representatives are proposing these changes to UA Faculty Senate, the Staff Advisory Council and Appointed Personnel Organization Council.
If the policy is approved by Likins, it could take effect by July, McGee said.
In other business:
ASUA Senators cut $4,350 from future officers' paychecks and budgets. These included:
ASUA President-elect Ben Graff's budget - which includes stipends for ASUA's treasurer and the chief-of-staff - was cut from $22,700 last year, to $21,200.

Executive Vice President-elect Erick Negri's budget - which includes stipends for club advocates - were cut from $11,150 to $9,950.

Administrative Vice President-elect Tiffany Podbielski's budget - which includes the Spring Fling and escort directors - was cut from $20,700 to $19,050.
Graff said the money saved will most likely be distributed among programming, club funding and the president's cabinet.