A dual life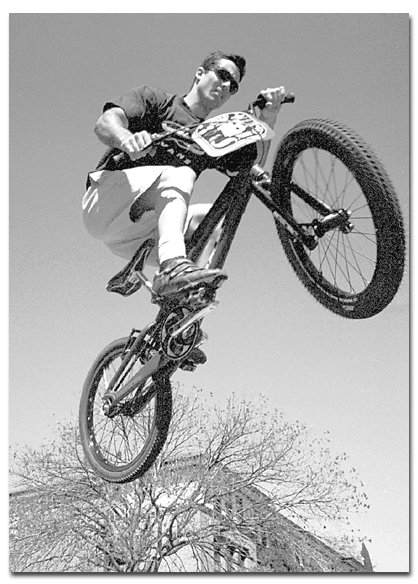 Arizona Daily Wildcat
Photo by: AMY WINKLER
UA engineering senior and BMX racer Andy Contes jumps his bike in front of the Arizona State Museum March 29. Contes was named 1999 Rookie Pro of the Year by the American Bicycle Association.
UA senior divides time between school, pro BMX racing
Andy Contes' aluminum and titanium racing bicycle cost $3,000. His downhill bike cost $4,400. But he didn't pay a cent for either.
The University of Arizona engineering senior made $50,000 as a professional BMX bicycle racer last year - and got all his top-of-the-line gear free.
Contes, who is sponsored by GT Bicycles, races on the AA circuit, the sport's highest professional level.
In 1999, Contes was named Rookie Pro of the Year by the American Bicycle Association after being ranked as the No. 1 amateur in 1998.
Contes, who ranked as high as No. 2 in the world last year, races 28 weekends out of the year, following the professional circuit all across the nation and world.
"It's pretty much my job," he said.
Contes started racing on a K-Mart bike his dad bought him for Christmas when he was five-years-old. His cousin, 16 at the time, was racing BMX and Contes went to see him ride.
"I was like, 'Oh cool, I want to try that,'" he said. "Three or four years down the road, I started beating people."
He turned pro on Jan. 1, 1999, after an amateur career that included a 1995 world championship.
Contes has raced in Greece, Australia, Colombia, France, England and Canada, and "pretty much every state."
Races in France, where cycling is very popular, draw more fans than basketball games in Tucson, Contes said.
Most of Contes' races are one lap around a dirt course, covering perhaps a quarter mile in about 35 seconds. It's a sport where first and eighth places are separated by three seconds or less.
Contes, 22, said starting a race is "nerve-wracking."
"You make sure you do everything just right," he said. "At huge races, if I'm out in front, I have tunnel vision, you don't really hear things when you've got one focus."
Each major race begins with 50 or 60 riders, most of whom are eliminated in three qualifying rounds. Another three rounds of finals decide the winner.
Contes said he competes in up to 25 heats a day for major races.
At 5-feet-8 inches and 165 pounds, Contes, who hails from Tempe, is one of the smaller pro racers. Many riders have the physiques of football linemen, and weigh more than 200 pounds.
GT team manager Todd Corbitt said Contes' smaller frame is an advantage.
He is "compact and powerful. Explosive," Corbitt said.
Brian Gass, sports marketing manager for GT, said Contes is different than most racers.
"He's not your typical pro athlete. He's one of maybe two or three pro riders who actually go to school as well as compete. I see him study engineering and math classes at the races. It's pretty unheard of, most pros listen to music or read magazines," Gass said.
"Andy is really amazing," Corbitt agreed. "He comes to races and brings his homework. He's really focused and determined on his schoolwork and does the same thing at races."
Contes said he bought a laptop computer, written off as a business expense, so he could do his engineering homework on the plane as he travels to races.
"Engineering is five times harder than anything I've ever done on a bike," he said.
Contes has put his engineering knowledge to work during two summer internships in Santa Anna, Calif., designing bicycles and equipment for GT.
Jon Agnew, who does product development and mechanical work for the GT team, said Contes has been designing some of his own equipment.
"(Engineering) helps him with knowledge of how things should work," Agnew said. "The rep he has with kids and the industry itself helps the company so much."
Contes wants to continue racing until age 30 or 31. Then he may explore a career at General Motors.
Meanwhile, he spends weekdays in Tucson, studying and sometimes relaxing.
One recent afternoon, Contes displayed some of his BMX skills by performing jumps - building up enough speed to soar more than 30 feet on some - in front of the Arizona State Museum.
"You're Andy, aren't you?" asked a man as he rode by on his own BMX.
Contes wasn't always on track to becoming one of the world's best racers.
Four years ago, he broke his right ankle in a crash and underwent surgery for ligament repair. Screws and pins were inserted into his ankle and he couldn't ride for six months.
Contes resumed riding two weeks before the world championship and raced with an air splint on his ankle.
His racing pants, called "leathers," have pads sewn in and cost $200 a pair.
Corbitt said Contes has a "good chance" of winning the world championship this summer in Buenos Aires, Argentina.
Corbitt said Contes will be better prepared for this year's event because without classes, he has a greater opportunity to train during the summer.
"He's a good, clean, determined professional racer. You never have to tell him anything, he takes care of everything on his own," Corbitt said. "To the company, he's a dream. He races well, can act well - there's never any tarnish on him at all."