More changes ahead for BPA sophomores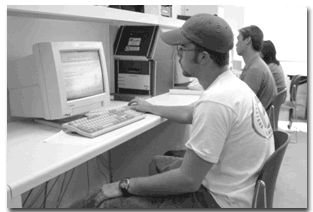 Arizona Daily Wildcat
Photo by: AMY WINKLER
Sophomore BPA major Jake Robinson searches the Internet at a McCelland computer lab yesterday afternoon. Although many BPA students have had trouble registering, he has already registered for upper division units needed for his major.
New "Cohorts" block scheduling system met with mixed reactions by upper-division business students
Students in the UA Eller College of Business and Public Administration were the first business students in the nation to interview for advanced standing in February. Now those who received it will participate in a new block scheduling system.
The system, dubbed "Cohorts," is modeled after the Eller College's master's of business administration program, said Pam Fick, program coordinator for the Eller College.
Instead of registering through RSVP, students are enrolled in blocks of classes with the same classmates. Students can choose either a morning class block, from 8 a.m. to 10:45 a.m., or an afternoon block, from 12:30 p.m. to 3:15 p.m., Monday through Friday.
The Eller College then registers for them, Fick said.
"It's a way to get us into a closer community which is important because we're a really big college of over 4,000 people," Fick said. "It brings the students together and helps them with the junior year stuff that happens."
But so far, reaction to the new system has been mixed.
Jay Cerato, a finance and accounting sophomore, said he was confused by Cohorts at first, but has grown to like the system in part because the Eller College registered for his classes.
Also, Cerato said Cohorts will facilitate study groups.
"At first, I was kind of confused because I thought it would be a limitation as to what we could take," Cerato said. "But now, I like the idea that I'm in classes with people in the same major with the same plans."
But Seana Rollins, a management and information systems sophomore, said she dislikes the Cohorts system because she will not be able to take other, non-major, classes. As a result, she will be in college for an additional year.
"I transferred here from California (Claremont-McKenna College), so a lot of my credits didn't transfer gen-ed wise," she said. "In the Cohorts, I can't take more classes than what they assign you, so I'll be here for five years."
Fick said that, depending on their major, some students will be required to enroll in 18 units of business classes per semester under the Cohorts system - although some of those classes are available during the summer as well.
The Eller College changed its policy about taking Cohort classes in the summer after hearing student reaction to the original policy, which allowed students to take only general education requirements in the summer, Fick said.
"The department suggested those students take summer school classes to reduce their class load," Fick said. "If students take two classes in the summer, they will actually be missing one class in the Cohort system.
"Now, there is not one single major where students cannot take major classes in the summer," Fick added.
Cerato is registered for 18 units, but he said he is not worried.
"At first I was hesitant, but I evaluated what I've done before," Cerato said. "I've taken 16 units before so I don't think it'll be a problem - people are just going to have to step up to the requirement. It's nothing to blame the college for."
Jennifer Roberts, vice president of Alpha Kappa Psi, one of two business fraternities on campus, said Cohorts is also causing registration problems for seniors.
"People who are graduating seniors are having a hard time getting classes because sophomores are getting in ahead of them," she said. "The Cohorts eliminate sections because they (sophomores) get top priority."