UA gets momentum rolling as Pac-10 season continues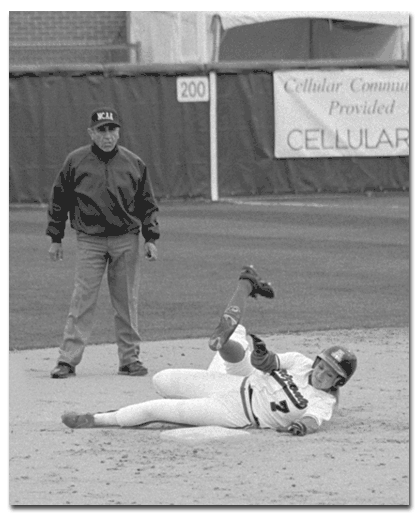 Eric M. Jukelevics
Arizona Daily Wildcat
Junior first baseman Erika Hanson slides hard into second March 5 against Northwestern State University. Second-ranked Arizona takes on two ranked opponents - No. 7 California and No. 9 Stanford - this weekend at Hillenbrand Memorial Stadium.
Softball faces 2 more top-10 opponents in Stanford, Cal
After outplaying and defeating No. 4 Arizona State 3-1 on Tuesday, the UA women's softball team is building momentum as they head into the thick of Pacific 10 Conference play this weekend.
"They are energized, and I think they are looking forward to this coming weekend," UA head coach Mike Candrea said of his player's attitude.
The No. 2 Wildcats host California (36-9 overall, 2-3 Pac-10) today and Stanford (32-7, 1-4) Saturday and Sunday at Rita Hillenbrand Memorial Stadium in what should be key games in determining the Pac-10 standings. Arizona and UCLA are the only two Pac-10 schools that are undefeated in conference play.
The No. 7 Golden Bears are particularly dangerous as they split their two-game series with No. 1 Washington last weekend. Washington has handed Arizona two of its three defeats on the season.
The main force behind the California offense is freshman first baseman Veronica Nelson who has 12 homers (a school record), 35 RBI and a .368 average. She is also four walks away from the Pac-10 record of 64.
The Golden Bears also won five of the seven tournaments they were entered in this year - the Early Bird Tournament, the Seminole Classic, the UNLV Softball Classic, the Easton Showcase Tournament and the Captial Classic.
Stanford, which is ranked ninth in the country, has slipped recently after losing two games to No. 3 UCLA and one game to the Huskies last weekend.
The Cardinal are a young team with five freshman pitchers but are lead by sophomore centerfielder Jessica Mendoza, who is batting .452 with six home runs and 22 RBI.
"Cal and Stanford are two very, very good programs that are playing well right now," Candrea said.
UA (40-3, 4-0) will be led by junior pitcher Becky Lemke, who will pitch tonight's game against Cal and Sunday's contest with the Cardinal.
Lemke is 21-3 on the year with a 0.73 ERA including a team high 216 strikeouts.
Sophomore pitcher/first baseman Jennie Finch will pitch the first game against Stanford on Saturday. Finch shutdown the Sun Devils Tuesday, allowing only one run on four hits to increase her season record to a perfect 19-0.
Providing support for Lemke and Finch, is a Wildcat offense, that is getting contributions from every spot in the lineup, with the latest output coming from senior second baseman Katie Swan and junior third baseman Toni Mascarenas.
Swan and Mascarenas hit back-to-back home runs to secure Tuesday's victory against ASU.
Junior centerfielder Nicole Giordano leads the team in hitting with a .476 batting average and junior leftfielder Lauren Bauer has been a terror on the base paths as she has stolen a team-high 23 bases in 25 attempts.
Tonight's and tomorrow's games will be played under the lights at 6 p.m., while Sunday's contest will start a 1 p.m.