Women's tennis host Wash. schools; men still on road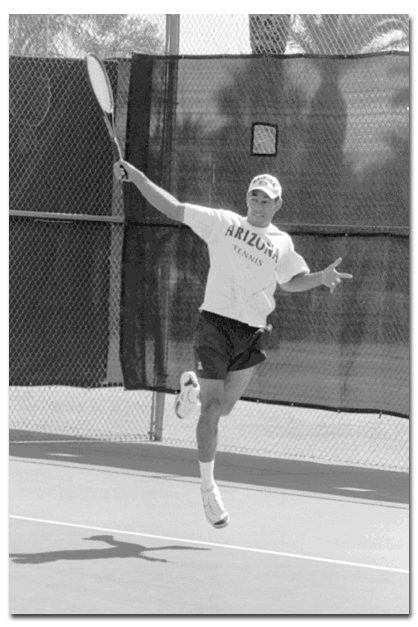 Arizona Daily Wildcat
Photo by: AMY WINKLER
UA junior Alex Aybar returns a shot in a double match against Arizona State on Feb. 26 at Robson Stadium. The Arizona men's team faces Oregon and Washington on the road this weekend while the women host Washington and Washington State.
Attempting to snap losing streaks, both the UA men's and women's tennis teams are heading into a two-match weekend.
As they host the Washington schools, the No. 20 women's team (7-8 overall, 1-7 in Pacific 10 Conference) is adjusting to opponents increased' preparation because of Arizona's high ranking.
"A lot of teams want to beat us (because) we're having a good year." sophomore Lindsay Blau said. "People come up a little more fired up."
In today's match, No. 54 Washington State (8-7, 2-3) will try to avenge a 6-3 loss last year, as the Wildcats lead the all time series, 6-0.
Tomorrow, No. 34 Washington (10-6, 3-2) comes into Tucson with a 10 match winning streak. Leading the Huskies is junior Kristina Krasweski, currently the No. 1 player in the nation.
In doubles play, Blau is looking forward to taking on Krasweski and freshman Darija Klaic. The Arizona duo of Blau and junior Michelle Gough is ranked fourth overall.
"We'll be mentally prepared and will focus with intensity," Blau said.
Today, women's match starts at 1:30 p.m. while tomorrow's begins at noon. Both are at the Robson Tennis Center.
The men's team, which has lost two straight matches, continues its road trip, stopping in Eugene, Ore. today and Seattle tomorrow.
No. 55 Arizona (8-7 l, 1-6) has been working hard in practice in preparation for No. 70 Oregon.
"You practice like your gonna play in the match," senior Alex Brown said.
Oregon (9-6, 0-3) is led by senior Guillermo Carter and sophomore Thomas Schmeiter. The two will most likely play in the top two positions in the singles lineup.
Arizona is concentrating on scoring on the Ducks early in doubles play.
"We need to win the doubles point," Brown said. "(Then) the whole team just needs to play well as a team."
The Wildcats face a hot team in the Huskies (13-5, 2-1) as they have won five straight matches, dating back to March 21.
Freshman Matt Hanlin from Birmingham, England will probably lead the Huskies in the No. 1 slot in the singles lineup.