Master of Fine Arts exhibit open Sunday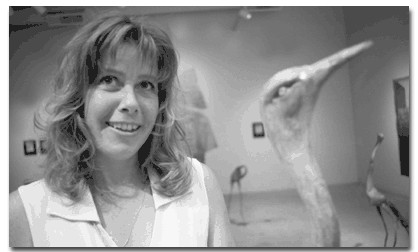 Arizona Daily Wildcat
12 artists display final thesis projects at UA Museum of Art
As part of their final thesis requirement for the fine arts masters program, 12 students will showcase their work at the 20th annual Master of Fine Arts exhibition starting Sunday at the UA Museum of Art.
The Joseph Gross Gallery, along with the museum, will feature the work of 12 artists before they officially receive their MFA degree. Each project is formally critiqued by a committee before MFA status is given.
"Each person is responsible for determining their own lighting, painting and setup for their exhibit," said Alisa Shorr, UA Museum of Art's public information specialist. "This gives the students a grounding of what a real exhibition will be like."
Among the artists featured is Lori Andersen, who was recently granted MFA status.
Andersen's exhibit, "Rites of Passage," reflects her interpretation of cyclical time and the human connection to the natural world.
A spiral of semi-hollow crane sculptures - each containing a bag of ceremonial spices and various objects - represents society's obsession with the exterior female body and the universal gifts women possess in their interior. Andersen molded each crane so the bags are contained within a single, hollow female breast.
"This represents femininity in the Western world," she said. "These images address both an egalitarian way and a western way of looking at the female form."
The bronze birds are arranged in a way that represents human passage from youth to old age. The shift in color from darker, smaller birds to brilliantly colored, larger birds symbolizes a person's journey from the beginning of childhood enlightenment to the vivid thought and creativity of adulthood.
The interior of each cranes contains a personal item from Andersen's life. The breast of one bird cradles a braided lock of her own hair.
"I try to generate work that extends healing images and hits the viewer on a heart level," Andersen said. "The bags are objects I've collected over many years that I want to pass on and give away as something dear to me."
Upon receiving her MFA, Andersen hopes to stay in Tucson and someday support her work by teaching sculpture at the UA. Because art education is such a competitive field, however, she will focus on commission work for right now.
The work featured at the MFA exhibition ranges from pottery and painting to sculpture and photography. Maria Harper, a student in the MFA photography program, will reveal her exhibit "In My Own Skin" for committee critique on Sunday.
Through a series of self-portraits, Harper portrays self-exploration and the representation of women.
"I want to give another, subjective voice to women," she said. "I think there's always room for growth and exploration in a photographic language."
Harper completed her thesis project in the darkness of a utility closet in her apartment. In order to depict complete intimacy and the honesty of the female form, she draped the walls of the closet in dark velvet to absorb light.
"I see the camera as a mirror," she said. "The pictures with motion are when the 'photo angels' come and sit on your shoulder. You are one with the camera, and it works."
Both Andersen and Harper have been working on their exhibits for nearly a year in order to meet their thesis requirement.
Sunday's opening reception is from 2 p.m. to 4 p.m. and is open to the public. All 12 artists' MFA projects can be seen at the UA Museum of Art and the Joseph Gross Gallery through May 7. ArtBreaks - free interactive talks with the artists - are April 12 and 19 at 12:15 p.m.