UA scientists delve into a study of consciousness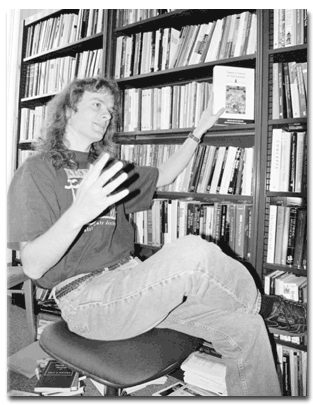 Aaron Farnsworth
Arizona Daily Wildcat
Philosophy professor David Chalmers reaches for a reference book from his office Tuesday. Formerly interested in the physics and mathematical approach to consciousness studies, Chalmers now tackles the field from a philosophical viewpoint.
Biennial conference comes to TCC this week
David Chalmers began his studies with a background in physics and mathematics. He moved to philosophy about 10 years ago after deciding it was the best approach to studying consciousness.
"I was interested in trying to understand the world," said Chalmers, a University of Arizona philosophy professor.
Chalmers refers to consciousness as an "amazing movie running through the mind," and "a part of what it is to be a human being." He cautions that "we need to understand the fundamental laws governing a theory of consciousness."
In the last 10 years, with the advent of new technologies and discoveries, Chalmers said there has been an explosion of study in what he calls the last great scientific mystery - the field of consciousness studies.
To explore this domain of science, which combines the disciplines of cognitive psychology, philosophy, neuroscience, integrative medicine and applied mathematics, the Center for Consciousness Studies was born at the UA in December 1997.
"How can we explain consciousness and how can we build a science of consciousness?" Chalmers asked. "Will science of the brain be enough to understand consciousness? Is consciousness actually something physical in the brain?"
These and other questions are explored at a biennial conference sponsored by the UA Center for Consciousness Studies.
The fourth conference, "Toward a Science of Consciousness," starts today at the Tucson Convention Center.
Stuart Hameroff, UA professor of anesthesiology and psychology, referred to the conference, which started in 1994, as the "Olympics of consciousness." The last conference, also held at the Tucson Convention Center, drew almost 1,000 people from 60 different countries, Hameroff said.
The center was created "to find a way to bring those different perspectives together with the conviction that no person has a corner on the truth," said Alfred Kaszniak, UA professor of psychology, psychiatry and neurology and director of the center.
The center is funded by a 1998 grant from the Fetzer Institute, a nonprofit private foundation with a mission statement to "support research, education, and service programs exploring the integral relationships among body, mind, and spirit." The Fetzer grant gives the center $1.4 million over four years to establish the program.
"Consciousness is the ocean in which we swim," Kaszniak said. "Consciousness studies provides us with a way to bring it all together."
Although there is no accepted scientific definition of consciousness, investigators in the field have some basic idea of what it is, said Chalmers, an associate director of the center.
"Subjective experience" is the definition used by Chalmers, whose first article aimed to separate several different meanings of the term.
Kaszniak said he doesn't think a specific definition is even necessary.
"In many ways, we make a mistake by saying the first step is to define consciousness," he said. "Everybody knows what we mean in some sense, and to try to come up with an operating definition is difficult."
Kaszniak said he believes the term consciousness involves "those states of awareness that begin when we wake from a deep dreamless sleep," and continue until we are asleep again.
For Hameroff, UA professor of anesthesiology and psychology and associate director of the center, the meaning of the term is the "set of experiences that we have, a sequence of discrete events as opposed to a continuum."
Hameroff said he studies molecular mechanisms of anesthesia, and "part of that is trying to figure out why people are awake in the first place."
In Hameroff's opinion, "consciousness is the most interesting problem there is."
Approaching consciousness from a different direction is Alwyn Scott, a UA mathematics and physics professor who also serves as an associate director of the center.
"Applied mathematics deals largely with how things move or change with time, and the methods developed in connection with such questions are useful in at least two ways. Understanding the nature of a nerve impulse and exploring the ways that the neurons of the brain might interact to form thoughts," Scott stated in an e-mail interview. Scott currently is at the Technical University of Denmark, where he spends half the year as a professor of mathematical modeling.
Scott added that "many aspects of the brain's behavior lie far beyond the reach of currently available mathematics, and may ever remain so. Thus one aim of a mathematician studying the mind should be to understand where mathematics is no longer useful."
Scott said he believes that "understanding the nature of mind is the most important outstanding problem for modern science."
Whether religion or spirituality has a greater role to play in consciousness studies than in other fields of modern science is open to discussion.
Chalmers said that although "some say the existence of a conscious mind suggests God putting meaning in the world, science is pretty neutral in terms of religious implications."
The science of consciousness has no more meaning for religion than biology or physics, he said.
Kaszniak said some people believe that a science of consciousness could "explain away" religious experience.
This could "degrade spiritual experiences or God to little bleeps and blips in the brain. I don't think that's the case. It wouldn't make religion or experiences of spirituality any less valid or significant," he said.
"There are various states of consciousness related with spiritual practices, (which are) probably among the most vivid and moving kinds of experiences human beings can have," he said.
With established sciences such as physics, chemistry and biology, there is the "feeling that we've made the central breakthrough," Chalmers said. "With consciousness it's not clear we've made that breakthrough. It's the big unsolved mystery of science."
"I only know about consciousness directly by having it myself," he said.
Because much of the primary knowledge of consciousness comes from introspection, the proper direction for scientific studies can be difficult to ascertain, Kaszniak said.
"In some ways, we grope around not always knowing what the right questions are to ask," he said.
"No one discipline has been able to answer all of consciousness," he said. "It's a terribly difficult nut to crack."