The Mount Lemmon 'Challenge'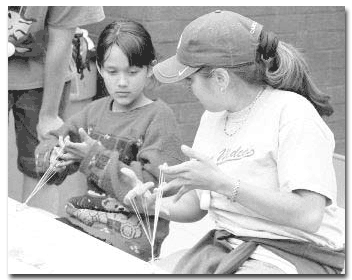 Arizona Daily Wildcat
Camp Wildcat's biggest camp benefits 79 elementary school students
As the sun began to set over Mount Lemmon on Saturday afternoon, Chris O'Neal had a smile on her face as a young girl hugged her and told her how much fun she was having.
"The hugs I get are the best because I see how well my hard work has paid off," O'Neal said.
O'Neal - a family studies sophomore - directed Camp Wildcat's final and biggest camp of the year," Challenge Camp," where 50 University of Arizona students took a group of 79 Cavett Elementary School fourth and fifth graders to Whispering Pines Camp for the weekend.
"I am so impressed with the weekend, and I couldn't be happier with the results," O'Neal said.
O'Neal said she chose the weekend's theme because she wanted the kids to be challenged at different times, such as coming up with songs and group names at meals, and being in different groups than their friends.
Clifford Vasquez, a 10-year-old Cavett student, said his favorite part of the weekend was the scavenger hunt because the prize was candy.
"I also liked it when the counselors played with us," Vasquez said.
Camp Wildcat coordinator Jeremy Chambers, an education senior, said the club chose Cavett Elementary School from a list of Tucson Title I schools - which have 90 percent of their students on federally assisted lunch programs.
"The principals of the schools are always anxious to work with us because they have heard so much about us," Chambers said.
Chambers said Camp Wildcat has not worked with Cavett in a couple of years, so he is happy they had the opportunity to work with "these perfect angels."
Molecular and cellular biology senior Chris Dulla spent his last Camp Wildcat weekend on Mount Lemmon and reflected on his three-year involvement.
"My favorite time was when I had the chance to direct a camp last year and got to see my hard work pay off on the kids' faces," Dulla said.
Dulla said that although he will be leaving Camp Wildcat when he graduates, he is certain that he will continue working with children and camping organizations.
When the camp began on Friday, the elementary school students were divided into groups of about five or six, and met with their counselors.
"There were two of us per group, so it gave us a chance to get close with the kids," said Steven Hajdu, a physiological sciences and classical literature sophomore.
Hajdu said this was his first Camp Wildcat weekend and he will be coming back next year because he enjoyed it so much.
On Saturday, each group participated in activities - arts and crafts, cooking, hiking, trust games and skit rehearsals - during rotations.
"The best part was arts and crafts, when I made necklaces, and when I practiced my skit," said 10-year-old Eugenia Del Cid.
Each group performed its skits in front of the whole camp at the carnival Saturday night.
"We also had music playing for dancing, which gave the counselors a chance to act goofy with the kids," O'Neal said.
O'Neal said she spent five weeks preparing for the camp, which included reviewing the Cavett students applications, renting out the campsite, and bringing up all the food and supplies for the weekend.
"Directing a camp is the biggest honor because you have to be elected by the club," she said.
In keeping with the "challenge" theme, two UA track and field team members shared their challenges of being an athlete and a student to the group on Saturday.
"Camp Wildcat has about 60 members who are really involved, and we have become a really close group of friends," O'Neal said. "I have gotten so much positive feedback and I am truly happy."