Tucson teacher shot at La Cima Middle School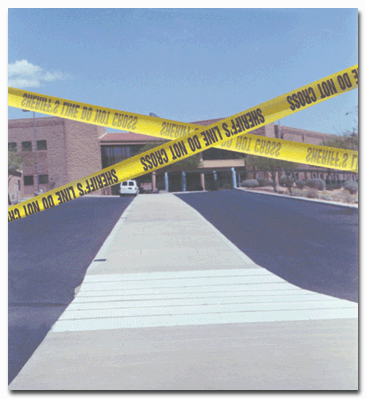 Arizona Daily Wildcat
Suspect is still on the loose, victim in guarded condition at UMC
A Tucson sixth-grade teacher was shot yesterday morning at about 8:30 in her classroom at La Cima Middle School, police said.
Kathy Morris, a science teacher and choir director, is in "guarded condition" at the University Medical Center, said Loretta McKenzie, UMC spokeswoman.
Morris left a staff developing meeting to retrieve something from her classroom when she was attacked.
"The teacher (Morris) excused herself from the meeting, which is not uncommon," said Diana Coulter, Pima County Sheriff's Department spokeswoman.
Every Monday, La Cima - 5600 N. La Ca–ada Drive - has faculty development meetings, postponing classes until 10 a.m.
No students were in the school at the time of the shooting.
The suspect is believed to be an 18- or 19-year-old Hispanic man with a shaved head wearing a black T-shirt and jeans, Coultas said.
The suspect is still on the loose and may be armed, said Coultas.
Morris had been receiving threats recently, said Julie Cota, La Cima school counselor.
"At this time they don't believe there is a connection (between the threats and the shooting),"Cota said.
Coultas said the sheriff's department has not yet determined whether the threats are related to yesterday's attack.
"We don't know what the relationship is between the suspect and the victim, or the relationship between the threats and the suspect," Coultas said.
Tucson Northwest Fire Department was dispatched at 8:37 a.m. and arrived at La Cima four minutes later. The Pima County Sheriff's Department did not allow the firemen into the school to aid the victim until they were certain the suspect was not in the building, said Katy Heiden, spokeswoman for the Tucson Northwest Fire Department.
"I don't know how the person got in," Coultas said.
A few minutes later, the building was deemed safe and the firemen were allowed in.
Morris was in stable condition when transported to UMC, Heiden said.
She was shot in the upper right shoulder and is under observation, Heiden said.
There were no witnesses to the shooting, but the head custodian heard the shot, Cota said.
The custodian was not available for comment, Cota said.
Following the shooting, classes for La Cima's 750 students were canceled and all members of the faculty and staff were moved to Amphitheater School District's headquarters, said Ardith Grady, Amphitheater school board secretary.
There they then underwent a debriefing and a crisis intervention meeting.
"It's expected to continue the rest of the day," Grady said.
La Cima will resume classes today and Cota said bringing the students back into school following this shooting will be difficult.
"I'm going to have a very busy day tomorrow," she said.