What about me?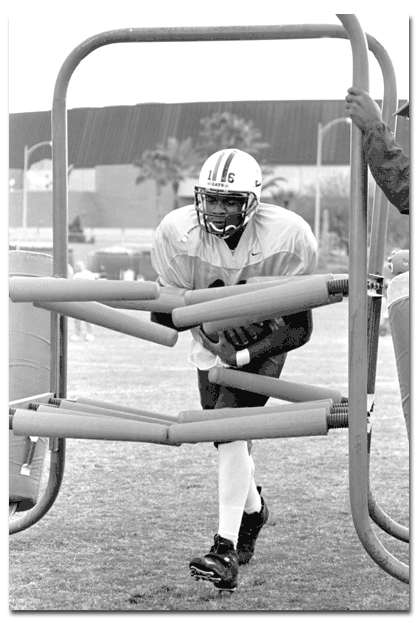 Aaron Farnsworth
Arizona Daily Wildcat
UA junior Ortege Jenkins goes through a workout last Saturday during one of the football team's spring practice. Jenkins is slated to be the team's undisputed starting quarterback next season.
Jenkins hoping to make the best of his final chance to lead UA
In academic years, Ortege Jenkins is a junior. In quarterback years, he might as well be a grizzled veteran.
After three seasons of toiling alongside departed senior Keith Smith, Jenkins is getting his last and best chance to make a name for himself in the world of college football. As the team's top returning senior, Jenkins will also be looked to as one of the team's leaders.
Not that he's scared of the responsibility.
"I've been playing here since 1997," he said. "It's not like I'm a rookie or anything. It's not like I haven't helped the university before."
According to offensive coordinator Dino Babers, Jenkins' reputation as the team's on-field leader needs to be earned, not given.
"(Leadership) is something that (quarterbacks) all have to work on," he said. "When he was a quarterback his freshman year, he was a leader. Since then, he's been a part-time player. Leadership on and off the field is something everyone has to work on."
According to UA head coach Dick Tomey, the team's fortunes will hinge on whether or not Jenkins can adapt to playing full time.
"Any team with a great quarterback is going to be a good team," he said. "(Jenkins) can be a great leader. He just has to demonstrate what he can do."
Jenkins, a Long Beach, Calif. native, may have been the team's best quarterback last season, as Smith's Wildcats struggled to a 6-6 record and failed to make a bowl game.
Jenkins played sparingly throughout the season as Smith, the senior, was given the benefit of the doubt as the team's elder statesman.
"I think that was the angle (the coaches) wanted to take," Jenkins said. "They wanted to solidify his season and help his career after college."
Entering the 2000 season, Jenkins appears ready to draw on the game time that he did receive as a backup rather than dwell on the playing time he missed last season.
"I was still playing a little (last season)," he said. "I had a drive or two versus Washington (Nov. 6). When I was in there, I thought that I was doing my job. I just had to roll with the punches last year."
Barring injury, "OJ" will be the team's primary quarterback this season. As a senior and the team's offensive leader, Jenkins will fill a role as one of the team's most recognizable players and a team captain
Jenkins hopes to draw on the example set by former Wildcats as he heads into his final season at UA.
"When I came here, I looked up to (wide receivers) Richard Dice, Rodney Williams and (linebacker) Chester Bunett. I would think they were team leaders when I was here. I became real attached to those guys."
As for his role as a team captain, Jenkins appears unconcerned with the responsibility surrounding the role.
"Everyone tells me that (I'm a captain)," he said. "I've done some good things and some bad things on the field. This year, I'm just trying to turn the bad things into good ones."
Both Tomey and Babers agree that Jenkins still needs to improve as a leader both on and off the field in order to return the Wildcats to Pac-10 prominence.
"There's been a lot of water under the bridge since his freshman year. He has made some mistakes," Babers said. "But if he's willing to work and grow, he has a chance to become great."
Tomey agrees.
"He's got to improve," Tomey said. "Without having another quarterback there to take over for him, (Ortege) is going to learn to get knicked a little bit."
Despite some people's low expectations for next season's team, Jenkins believes the Wildcats could surprise some people. Many are predicting the Wildcats to have a sub-par season following the departure of several key seniors - linebacker Marcus Bell, wide receiver Dennis Northcutt, running back Trung Canidate and Smith.
"What those guys did is irreplaceable," Jenkins said. "But it does put more pressure on me to succeed. As a quarterback, I can't expect guys to make great catches or break off incredible runs. I'm just trying to throw the easiest catchable ball. If (receivers and backs) don't catch a pass, it means that I haven't put it in there."
Jenkins cites the play of his offensive line as the biggest surprise of this season's spring practice session.
"I think when you look at the team, you have to start with the guys up front," he said. "When you play games with guys who have played a lot, you know that games are won in the trenches. The offensive line has done a great job this spring. I'm really excited about next season."
Babers believes Jenkins has the ability to be just as good, if not better, than his predecessor.
"(Jenkins) has big shoes to fill," Babers said. "But he has big feet. I have a lot of confidence in Ortege."
Tomey agrees.
"I have a lot of confidence is Ortege," he said.
As for the team's success, Arizona's senior quarterback is hesitant to make any predictions.
"The ball's still in the air," he said.
For the first time in his career, whether or not the ball will land in the hands of a Wildcat receiver is now completely up to Jenkins.