UA Baseball Notes-Wildcats dodge weather, win first trip to Washington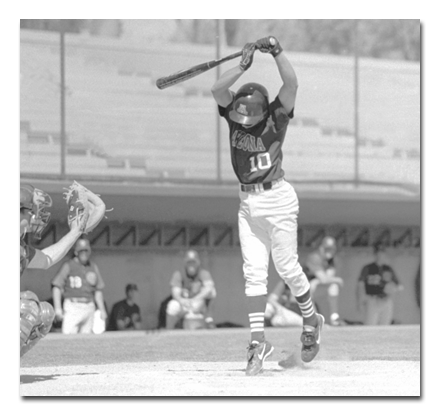 Amy Winkler
Arizona Daily Wildcat
UA sophomore second baseman Brad Hassey gets out of the way of a pitch in a game earlier this season. The Wildcats took two of three games from the Washington Huskies this weekend despite sophomore pitcher Ben Diggins losing his first game of the season.
As if the UA baseball team didn't have enough going against them last weekend, the team had to deal with new surroundings.
With the expansion of the Pacific 10 Conference into the Pacific Northwest, the University of Washington has become a new opponent for Arizona.
Despite playing without starting right fielder Shelley Duncan, the Wildcats managed to take two of three games from the Huskies.
According to UA pitching coach Bill Kinneberg, the possibility of poor weather worried the team going into the series.
"We were a little worried about the weather, but everything went fine," he said. "Any time you head into the Pacific Northwest, you fear the possibility of rain."
The weather, which was in the low 60s, was a welcome change.
"There wasn't a drop of rain," Kinneberg said.
The dry weather must have helped UA bats, as the team pounded six home runs on Saturday in a 14-8 victory against the Huskies.
"We won on Saturday because of our offense," Kinneberg said. "Sunday, we scored just enough to win the game."
It was the Wildcats' first conference series win of the season and has given Arizona momentum going into next weekend's series at Oregon State.
"We hope that we have a little momentum," Kinneberg said. "We have to go back into the northwest next weekend. Oregon State's a lot better this year than they were last year."
After facing Southern California and Stanford in the past month, the team is excited to be playing less successful teams.
"Washington and Oregon State are both in the bottom half of the conference," Kinneberg said.
---
A week ago, UA head coach Jerry Stitt touched on the improvement of junior third baseman Erik Torres.
"He's been slumping a bit lately," Stitt said. "We need him to produce."
Torres must have been paying attention, as the Tucson native slugged three home runs in Saturday's victory.
"It's nice to give them a spark," Torres said. "You have to play it one pitch at a time. Sometimes, one pitch might turn the game around."
Kinneberg believes that Torres' slump had been mostly mental.
"Baseball is a game of failure," he said. "You're not always going to be successful. It was (mental)."
---
Torres and other Wildcat regulars played in a junior varsity game yesterday against Glendale Community College.
According to Kinneberg, the JV games are a chance to give hot players a chance to pick up a bat between series and a chance to get slumping players back on track.
"Each player can play as many as 56 games in a season," he said. "It gives them a chance to play. For Erik (Torres), it's a chance to keep him in a groove."
Torres went two for three with a home run.