Tucson's Funky Bonz gives audiences energetic live experience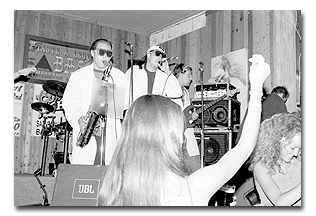 Wildcat File Photo
Arizona Daily Wildcat
Funky Bonz sax player Tom Kennedy, singer Brent Kort and bass player Sean Mayereck jam at last spring's Club Crawl. The band will perform Saturday at the Rialto Theatre as part of this spring's event.
Band wants to keep the 'fun' in funky
For local band Funky Bonz, combining elements of differing musical scenes is just as important as tapping into the pool of Tucson musicians.
Easily recognizable by their on-stage attire - safety goggles and lab coats with the Funky Bonz emblems on back - the band bends sounds from multiple musical genres into a style as distinct as front man Brent Kort's stovepipe, candy-striped Dr. Suess' hat.
Despite carrying a cast from former local bands like Four Pigs, Greyhound Soul and New Mexico musicians the Rails, the band is something entirely its own.
Claiming influences from a wide conglomeration of artists and genres - ranging from jazz to funk to rock - the band has an utterly original sound.
"Some of the guys have a big basis in jazz, some have very eclectic tastes, and some have heavier tastes," said Kort, who also writes the band's music. "We combine everything to have some type of cohesive sound."
Kort is the only surviving member of the original Funky Bonz, created in 1993.
Along with guitarist Doug Floyd (Four Pigs), drummer Alan Anderson (Greyhound Soul), bass player Sean Mayercek (Rails) and sax player Tom Kennedy, the Funky Bonz play weekly in Tucson.
Kort said the band is without a doubt a "live music" kind of band - the performance is what makes them so exciting.
"We want people to have a good time," Kort said. "We've been known to play some trash-disco medleys, and although it's not our favorite type of music, it translates well with the crowd, and we'll all have a good time."
Kort also said the band's on-stage style differs from the music found on their albums.
"At our shows, we want to get people up and dancing," he said. "We save the heavy originals for the albums for the sake of not sounding like just a Reggae-Bluesy night club and bar band."
The band has released two albums. Kort said the band hopes to complete recording their third within the next few weeks.
"The stuff on the CD will be on an alternative tip," Kort said. "On our albums, we tend to put more of a creative foot forward. But the heavier stuff you might hear on this CD is not typical of what we play in a show."
Along with the band's manipulation of multiple music sounds, Kort's approach to writing lyrics comes from childhood influences Dr. Suess (with a song even titled "Green Eggs and Ham") and Shel Silverstein.
Kort said the band definitely knows how to have a good time and is known for getting people throughout the Southwest up on their feet.
"One of the best times I had was when Funky Bonz was touring in Telluride, Colo., when we played with the Rosano Brothers from Crawdaddy-O and old bassist 'D' at the Telluride Beer Festival," Kort said. "This crowd started slam dancing to the blues on the first song, and it didn't let up. I gave away a water pipe, and it came back to the stage numerous times completely full and ready to go."
The Funky Bonz have toured Arizona, playing mostly in Flagstaff, Prescott, Phoenix and Tucson, for more than seven years.
"We're all about keeping the 'fun' in Funky Bonz," said Kort. "When it ain't fun anymore, we'll have to look for something else."
The Funky Bonz will perform this Saturday at the Rialto Theatre, 318 E. Congress St., as part of the Tucson Club Crawl.