RA takes national honors for work with Hopi Lodge community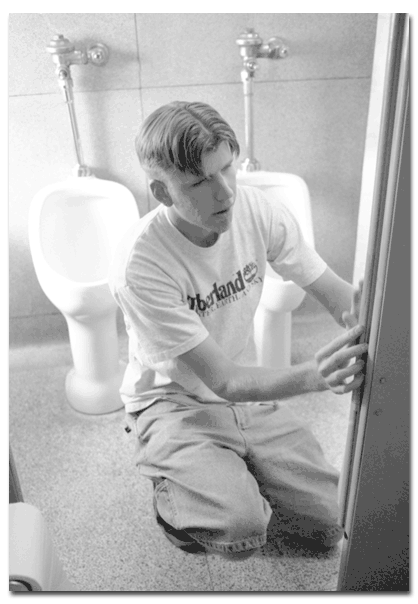 Amy Winkler
Arizona Daily Wildcat
Geography sophomore Bill Nye, a residence assistant in Hopi Lodge Residence Hall, hangs up paper for his residents to write on while in the bathroom on Monday afternoon. He was awarded National RA of the Month by the National Resident Hall Honorary.
Bill Nye earns title of RA of the month from national dorm honorary
UA student Bill Nye's friends don't call him "The Science Guy" - not when "Bill Nye, RA of the Month" is much more fitting.
Nye, a geography sophomore and resident assistant at Hopi Lodge residence hall, was awarded the distinction of National RA of the Month by the National Resident Hall Honorary for his work during the month of January. He was notified of his honor two weeks ago.
Nye is the first University of Arizona RA to score national honors for his work, and said the award came as a "complete surprise."
"When I found out that I won, I was both happy and humbled - happy because I knew that God is being glorified through this because it is Himself and His love that compel me to do what I do," he said. "I felt humbled because I knew that there are many RA's that deserve this award just as much, if not more, than I do."
Nye said his typical daily routine as an RA is to "live out the role of a student and resident." After attending classes and working on homework, Nye spends time with his residents and ensures they are informed dorm community members.
Though he has 35 residents in his charge, Nye said he enjoys getting to know the men in his wing.
"I talk to those on my wing that I run into each day. Sometimes I hang out in resident's rooms, or we go get something to eat, one of my favorite pastimes," he said. "My favorite part of the job is taking an interest in the lives of other people - simply asking a resident how his day is going, or how he did on his econ test, or what he did during the weekend."
"Part of it could be my curiosity, but I also care about the guys on my wing and want to invest in their lives," he added. "This is why I like doing programs and events for the guys - it gives me more chances to hang out with them."
Cory Shapiro, also a Hopi RA, nominated Nye for the award because he is a "genuine RA."
"He wants the best for everyone. If anyone needs anything from him, he'll do his best to provide," said Shapiro. "He is very involved on campus and motivates everyone to just want to do good. Bill is also a funny guy. If anyone is ever in a bad mood, Bill can change that instantly. He is always funny or serious at the right times."
Matt Brown, hall director for Hopi and Graham-Greenlee residence halls, said that although he is Nye's supervisor, he is also his friend.
Brown said Nye skillfully manages his time, staying focused as a student while still having fun.
In his time as an RA, Nye planned a sandwich-making drive for the homeless with other resident assistants and organized paintball and capture-the-flag games.
However, Brown said he was most impressed with Nye's dedication to academics.
"As busy as he is with things on campus and his job as an RA, he still managed to get a 4.0 last semester," he said.