Two of a kind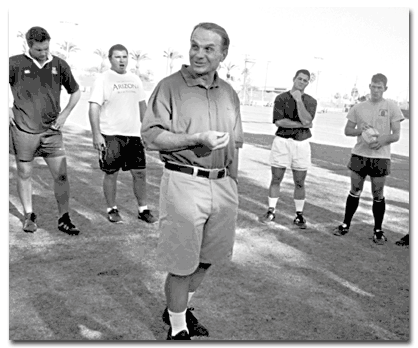 Arizona Daily Wildcat
Felton, Sitton have been reshaping their sports for more than 20 years
To volunteer means to sacrifice time and/or money without expecting any compensation or other rewards in return.
Labeling the head coaches of two of the University of Arizona's club teams as mere volunteers would be an understatement.
True, neither Laxcat head coach Mickey-Miles Felton nor rugby head coach Dave Sitton get paid for their work, but for them, money is not an issue. They get paid by having the opportunity to teach players about the sports they love and also about life.
"The students on their teams use their coaches as role models and mentors," said Mary O'Mahoney, the assistant director of club sports at the Student Recreation Center. "They sure make my job a lot easier."
Club sports at the UA have always been a successful part of the university's athletic program, and thus the success of such sports cannot be mentioned without talking about Felton and Sitton.
Getting Started
Both coaches had a different start in taking over their programs.
Felton began to play lacrosse for Arizona in 1976 at the age of 30. Through his business experience, he took over the role as general manager of the team in his first season.
"After two seasons as general manager, I started to flex my muscles," Felton said. "The way I got into coaching is because I fired the old coach, and by default, it left me as the only replacement."
Felton, who played lacrosse in high school for only one year, was left coaching a sport that he knew very little about.
"The technical aspect of coaching the team was difficult at first, but I was able to handle running the team," Felton said.
During his first 10 years with the team, Felton was named Coach of the Year four times - '81, '82, '83 and '88.
Felton also had the opportunity to coach the United States West Lacrosse team at the 1984 Olympic games.
"He is one of the forefathers of this pioneering stage of lacrosse," said Jason Lamb, head coach of Brigham Young University's lacrosse team. "I applaud him for his vision and his dedication to the game of lacrosse."
Felton is the co-founder of the Western Collegiate Lacrosse League - the Laxcats' current league - and has served as its president for several terms. He has also held the title of executive vice president of the United States Lacrosse Intercollegiate Association.
Like Felton, Sitton didn't begin his career with the intention of playing his sport. Growing up in Southern California, Sitton had little experience playing rugby. In 1969, Sitton came to Arizona to play baseball, but threw out his arm.
"I started playing rugby that year when clubs were open," Sitton said. "Back then, it was a good club with strong traditions."
In his junior season, the team traveled to Wales for an international tournament, where he met the world-famous coach, Jon Evans. Sitton took a coaching course from Evans in Wales.
"He lit the fire underneath me," Sitton said. "He was just a wonderful man."
During the team's return back to Arizona, the head coach resigned, so Arizona was left without a coach.
Sitton took over as player-coach during his senior season, and according to him, the "rest is history."
Steve Gray, one of the all-time great U.S. National Team rugby players, played with Sitton at the UA in 1969. Now a physical education professor at Sacramento State University, Gray said Sitton's impact reaches beyond the Grand Canyon State.
"When Dave took over the UA program, he got the program going and helped develop the whole league in Arizona and California. He has made the league one of the hardest in the United States as far as depth."
Sitton, though, gives most of the credit to others.
"None of what we have achieved would have been possible without the dedication of all the assistant coaches and generations of players who coached and played out of the respect for the game," he said.
This respect for his players and coaches is what brings players to Arizona.
"He empowers students to come out to Arizona and play rugby," O'Mahoney said.
Battling for resources
Felton and Sitton have each been with their respective teams for more than 20 years, and while things are looking up now, things were not always as good for these coaches.
Twenty years ago, competing factors caused their relationship to become a little shaky.
"I think in the early days, we were a little more competitive fighting for publicity for each team and fighting for sponsorship," Felton said. "That was the main difference back then."
Sitton agreed.
"We were both younger men who were very aggressive," Sitton said. "When you are new, there is a certain unsuredness. We both have a very strong personality and dedication for our sport, and since we were fighting for sponsorship and publicity, we became very competitive."
With only $30,000 dollars to divide among 42 UA club teams, money is always an issue. Through fundraising and donations, though, both teams with their coaches' guidance have been able to have an extensive travel schedule.
"We try to go overseas and play rugby every other year," Sitton said. "It not only gives the players an opportunity to play against players from different countries, it is an experience of a lifetime."
Felton and the Laxcats have also logged many traveling miles, as this season alone, they have traveled to California three times, Utah, Michigan and possibly St. Louis (depending on their playoff performance).
Winning traditions
This season, the two programs have had their most successful seasons in recent memory.
Last weekend, the Laxcats clinched their first Western Collegiate Lacrosse League division B title, while the rugby team will compete as the favorite in college rugby's "Sweet 16" tournament in Annapolis, Md., this weekend after going 6-1 in their division this season.
Despite their on-field successes, both coaches are more proud of what they've done off the field.
"My greatest achievement is developing the friendships and relationships of my players," Sitton said.
Felton agreed.
"I would say my single greatest achievement is the number of lives I was able to touch," Felton said. "Also the long-term relationships I was able to have with my players."
This is one reason why Lamb said players like to play for Felton.
"I think kids want to come play for him because he does everything for his kids," Lamb said. "He spends so much time making everything a better experience than they expected."
Sitton has had the same influence on his players, as Gray is sending his son to play at Arizona next year.
"Rugby means a lot to me and has been a big part of my life," Gray said. "My son, Jesse, asked me my opinion on where to go to school, and I told him I rate Arizona number one due to Dave Sitton and the other coaches. Players at Arizona seem to enjoy themselves on and off the field."
Junior hooker Nick Kenny can understand why a former teammate of Sitton's would want his son to play at Arizona because of Sitton.
"He is very strategic and considers the mind game as important as the physical game," Kenny said. "He has a way of offering respect to both players and everyone else he deals with."