CCP exhibit looks at cloistered nuns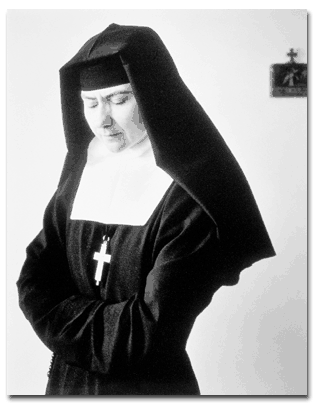 Arizona Daily Wildcat
Photo Courtesy of the Center for Creative Photography "The Meeting Room" is part of Photographer Clara Gutsche's exploration of monastic life in Quebec. Her exhibit, "The Convent Series" begins Saturday at CCP and runs until June 11.
'The Convent Series' travels across Quebec in search of devoted women
"The Convent Series" opens Saturday at the Center for Creative Photography with 65 photographs that explore the lives of cloistered nuns in Quebec.
"There are several layers to the exhibit," photographer Clara Gutsche said. "I saw it as a new puzzle to figure out - it's not a critique or a celebration of the Catholic church, it looks at a cultural phenomenon."
After soliciting communities through letters, visiting the convents, talking to mother superiors and getting permission from the bishops, Gutsche could finally take photographs at the location.
"It took three to six months for each community," she said. "I didn't bug them, and I figured if it happens, then it happens."
Gutsche said she also wanted to use the exhibit as an opportunity to examine women's lives in general.
"It had a feminist interest - what it's like for women to live together, not independent of men's rules but autonomous within the group," she said.
Using both black-and-white and color photography, the series originated at the Musee d'Art de Joliette in Quebec, and will make only two stops in the United States - New York and Tucson.
"There are different levels," said Trudy Wilner Stack, curator of exhibitions and collections for the CCP. "From the purely photographic they are really beautiful, it gives an in-depth sociological look at a lifestyle, and it brings a medieval and European way of life that is rare to see."
Stack said people often have preconceived notions of monastic life, she said she hopes to educate viewers through her photography.
"Seeing the photos is jarring," she said. "We see little imagery except Hollywood-ized conceptions, but this show is working in documentary mode. It's very formal."
Cloistered nuns live almost completely cut off from the rest of the world, and they devote much of their time to prayer.
"They take a vow of permanency and they stay in an enclosure of a few acres for their entire lives," said Sister Jeanne Carrigan, UA assistant professor of family and community medicine. "They pray nine times a day together, waking up in the middle of the night and starting their days at about 4:30 a.m. - it's not a lifestyle for non-morning people."
During the series, CCP will also feature "Looking into the Collection: Faith," pictures pulled from their permanent collection and related to Gutsche's work.
"They'll be up at the same time. They are meant to compliment each other," Stack said. "'Faith' looks at religious ideas from an interdemoninational and ecumenical perspective and across cultures."
Though both shows have a theological basis, Gutsche said she wanted people to recognize the secular quality of the material.
"I hope people will like as much about the photography as about the subject," she said.