Spring Fling execs may keep event off campus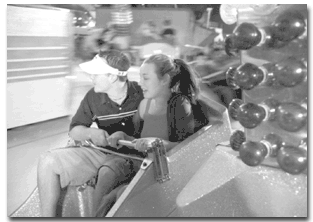 Sarah Brown
Arizona Daily Wildcat
Retail and consumer studies sophomore Kirsten Milkovich and economics sophomore Marc Robson take a spin on the "Hurricane" Saturday night at Spring Fling. According to preliminary figures, 41,000 people attended the event.
Off-campus event attracts Tucson community, shuts out
Spring Fling organizers said they were so pleased with the carnival's new off-campus location that they may recommend the event stay off campus - even after completion of Integrated Learning Center.
"We're going to keep the doors open for right now," said Craig Haubrinch, Spring Fling executive director. "I think this year's been better for the clubs and for every one. Things are going extremely well."
Haubrinch said preliminary figures show 41,000 people attended the event. Last year, 17,900 people attended Spring Fling, which was cut short by two days because of poor weather conditions.
For the first time in its 26-year history, Spring Fling was not held on the University of Arizona campus. Upon completion of the ILC, which caused the event's relocation to Rillito Downs, Spring Fling was expected to return to its usual campus location.
With the success of this year's event, however, Haubrinch said the Spring Fling organizers may discuss location changes in the future.
"We're very happy with the way things are going. Next year we'll definitely be off campus again (due to construction)," he said. "But depending on how things go this year, we'll evaluate the situation for later years."
Alan Barkwill, public relations director for Spring Fling, said he considered the experience a tremendous success as preliminary attendance exceeded his expectations.
"I think this year's Spring Fling was better for the crowds, better for the clubs, and less intimidating for Tucson as a whole," Barkwill said. "I was astonished at the Tucson response."
Barkwill said he believed the high overall attendance was due to Spring Fling's new location at Rillito Park Race Track, 4502 N. First Ave.
"I was blown away by the huge turnout," he said. "A lot more families were here this year."
Student reaction to the event was mixed, however.
Tiffany Miller, an education freshman, said too many people outside the UA got into the event, forcing Spring Fling security to restrict access to many students trying to enter on Friday night.
"I was very disappointed we didn't get in," she said. "It was about 9:45 (p.m.) and they stopped letting people through the gates. There were tons of pissed off students - at least 50 to a 100. Then UAPD came and told us that there were too many people inside and we had to go home."
Miller said she would have preferred the event took place on campus and said she hopes the construction on the UA Mall will be completed shortly so Spring Fling can return to its original location.
Others complained about the transportation difficulties which restricted access to the event for students.
Allstate Pony Express provided transportation every hour from the UA campus to Rillito Downs, but some students said it wasn't sufficient.
"A lot of people on campus who don't have cars couldn't get here," said Jessica Smid, a chemical engineering junior. "If it had been at the university again, then it would have been easier for all students to attend."
While there were some concerns about Spring Fling's off-campus location, Barkwill said it added a new dimension for the public.
"I think many people outside the university see the school as an island in the middle of a sea and they get very intimidated," he said. "I think our new location helped out a lot."
Matt Preis, a communication freshman and a volunteer security member, said he thought the crowd was diverse because of the new location.
"(It was) mostly Tucson people - not U of A students," he said. "But the turnout was really incredible. There were a lot of families, and every one seemed to be having a great time socializing."
Anthropology freshman Rachel Bash said the turnout impressed her as well. Aside from the high number of adults and students, she said there were also, "lots of little kids."
Bash, who worked the Women's Ice Hockey booth, said she thought the event was well planned and that the new location did not make a big difference because everyone there seemed to be having a great time.
"(It was) well put together and had good rides, good games, good food and good fun," she said. "In all, it was a fun way to raise money."