Some old story as UA falls to Washington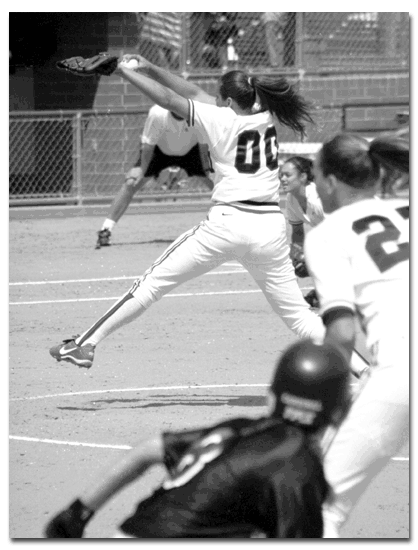 Matt Heistand
Arizona Daily Wildcat
UA junior pitcher Becky Lemke throws a pitch against Stanford on April 9 at Rita Hillenbrand Memorial Stadium. The Wildcats went 1-2 on their recent road trip against conference rivals UCLA and Washington.
In what was their most treacherous road trip of the season, the UA softball team proved its No. 2 national ranking is rightfully earned.
While the Wildcats (44-6 overall, 7-3 Pacific 10 Conference), handed No. 3 UCLA (32-7, 7-2) its first Pac-10 loss of the season, the team was unable to find home plate, as season long nemesis Washington justified being the top-ranked team in the nation by sweeping Arizona in a two-game series.
UA started the weekend off strong on Friday, as they defeated the Bruins 6-4 in Los Angeles.
The two powerhouses were deadlocked at three going into the sixth inning when the Wildcats lit the scoreboard for three runs on two hits.
Junior first baseman Erika Hanson, senior second baseman Katie Swan and junior third baseman Toni Mascarenas all had RBIs in the inning, which proved to be the crucial inning of the game.
Hanson had one of her best games of the season as she went 1 for 4 and had a team-high two RBI for Arizona.
As a team the Wildcats scored six runs on seven hits while junior pitcher Becky Lemke struck out eight Bruins batters and earned her 24th win of the season.
The hits stopped falling though, when UA entered the Pacific Northwest.
Against the Huskies (46-4, 8-1) the Wildcats offense managed just eight hits in two games off Washington senior pitchers Jennifer Spediacci and Jamie Graves.
Arizona suffered its worst defeat of the season yesterday, as the Wildcats fell 7-0.
The game had a disastrous beginning as UA allowed two first inning runs and head coach Mike Candrea was ejected while arguing a call at the plate.
The Wildcats managed just four hits - three singles and a double by Swan -off Spediacci (25-1). UA batters also struck out 12 times and never threatened to score, as Spediacci garnered her third win against the Wildcats this season.
Lemke struggled through her worst performance of the season as gave up seven earned runs in six innings of work.
Spediacci and junior outfielder Kelly Hauxhurst did most of the damage offensively for the Huskies, as Spediacci hit a three-run homer in the third inning and Hauxhurst went 3 for 3 from the plate with a run and a RBI.
UA fared no better on Saturday as Graves pitched a stellar game, allowing four Arizona hits while striking out 9 in the 2-0 Washington victory.
Wildcat sophomore pitcher/first baseman Jennie Finch gave a valiant effort in the circle as she gave up only two earned runs on six Husky hits.