Success away from home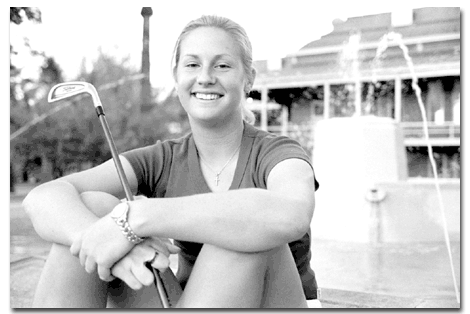 Gavin Stevens
Arizona Daily Wildcat
UA freshman Julia Kraschinski poses yesterday in front of Old Main. Kraschinski has steadily improved her play this season for the No. 1 women's golf team after struggling in the first part of the season.
Kraschinski survives early struggles, makes an immediate
Julia Kraschinski is not unfamiliar with autograph seekers, they just happen to be from New Zealand instead of the United States.
Kraschinski, who is one of the top freshmen golfers in the nation, is a national celebrity in her native home of New Zealand, where she has been honored with the prestigious title, Sports Person of the Year.
"Little kids ask me for autographs," Kraschinski said of her admirers. "It's just flattering. It's nice to know that people care."
The New Zealand native has found plenty of success on the golf courses in America, as she is one of the top five golfers for No. 1 UA women's golf team this season.
Kraschinski's favorite aspect of being in the starting five, though, is that she can spend more time with her teammates.
"I really enjoy being part of that because the girls I travel with are so cool and we get along so well," Kraschinski said. "They are people you really want to spend time with."
Junior Christina Monteiro said Kraschinski is not only a fun person to have on the team, but also one of the best talents she has ever seen.
"She is amazing, she is so much fun," Monteiro said. "Raw talent wise, I have never seen anything like it."
Though Kraschinski is the fifth starter on the golf team - behind Jenna Daniels, Cristina Baena, Monteiro and Jill Gomric - her potential is unlimited as she won the Junior World Championships - an 18-year-old and under tournament - when she was only 14.
"It was my greatest golf high," Kraschinski said. " It was the same tournament that Tiger Woods won."
With her future in golf becoming clear, Kraschinski came to the United States to prep at the Bradenton Golf Academy in Florida for two years.
"It has a very good golf program, but it is very intense," Kraschinski said. "It does lack somewhat because it is pretty strict like a boarding school, so that is the downside to it. All in all, if I had to do it again, I would do it again."
While at Bradenton, though, Kraschinski really began to flourish as a golfer. She was an American Junior Golf Association first team All-American after making five top-five finishes in nine tournament appearances in 1998 and also ended the year as the third-ranked junior golfer in the country.
"To me, it didn't really make much of an impact (AJGA All-American) because I wasn't from America," Kraschinski said. "To tell you the truth, I didn't even know what it was. It was an honor being named that even though I wasn't from America."
Kraschinski continued her impressive golfing this past summer as she took third-place at the AJGA Hargray Junior Classic and fourth-place at the AJGA Greater Greensboro Chrysler Junior.
With all her early success, universities such as Southern California, Tennessee and Florida all approached Kraschinski with scholarships, but she believes that none of them offered a more complete package than Arizona.
"When I recruited Julia, I felt that she was the most talented freshman in the country. She is just now getting her confidence back to be the player she can be," UA head coach Todd McCorkle said. "She truly is the most talented freshman in the country."
The transition to collegiate golf hasn't been that easy for Kraschinski ,though.
After starting her collegiate career with an 11th place finish at the NCAA Preview, Kraschinski went through a stretch of six tournaments where her scoring average did not dip below 75.00.
"She started off the year strong, then had a series of rough tournaments, and now, she has stepped it up in the last two tournaments," McCorkle said. "When Julia first started, she was fresh off the summer and came off fresh. As a freshman, it took her a while to adjust to college golf. Now she knows what to expect and that's why she's coming around."
Even with her struggles, Kraschinski has continued to improve and adjust her game as the season progresses.
The turning point of her season was at the Dr. Thompson Rainbow Wahine Golf Invitational in Honolulu, Hawaii, where Kraschinski shot an 11-over-par 227 and finished tied for 10th place.
Her strong play continue two weeks ago at the Ping/ASU Invitational in Tempe, where Kraschinski had her lowest scoring average of the year at 74.00 and tied for 13th place with a six-over-par 222.
"I just think that I am getting accustomed to college golf, the actual realization that I was playing golf in college," Kraschinski said. "My short game has really improved since I came to college. I worked on it very hard since the beginning of the semester, and it is considerably paying off in the last two tournaments."
The best is yet to come for Kraschinski, though, according to McCorkle.
"When she gets very comfortable, she will make the same progress Jenna Daniels (No. 1 ranked NCAA women's golfer) had. Julie surely has the potential to do the same type of thing," McCorkle said.