The business of athletics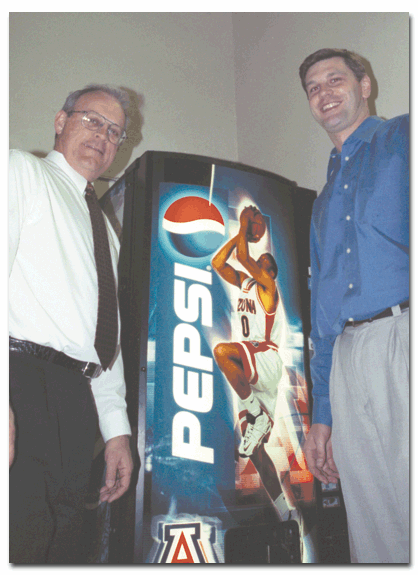 Randy Metcalf
Arizona Daily Wildcat
Scott MacKenzie, UA director of marketing and promotion, and John Perrin, UA senior associate athletic director for business affairs, pose yesterday in the McKale Center. The UA currently has 34 corporate sponsorships that contribute a good portion to their $26 million annual budget.
UA athletic department has made great strides in the past two
When the 1980s concluded and a new decade dawned, the UA was just becoming a known commodity in the world of collegiate athletics.
In 1988, Lute Olson and his "Cardiac Cats" led by Sean Elliott, Steve Kerr and Tom Tolbert, brought the Wildcats to their first Final Four. They lost to Oklahoma 86-78, but a new era in University of Arizona athletics was born.
The name was national, but that still did not mean the athletic department had finally reached its peak as an organization.
In the 1991-92 fiscal year, the gross sponsorship revenue for the athletic department was a paltry $76,875. It was enough to keep programs above the red, but far short of the amount needed to compete on a national level.
That figure gradually grew to $209,300 in the 1993-94 fiscal year, and then current UA Athletic Director Jim Livengood took over in January of 1994.
That season, Olson guided the basketball team to a second Final Four, providing the main reason why the sponsorship gross revenue increased to $460,000 in 1994-95.
Arizona was officially off and running, and on its way to becoming a national power in the competition for the corporate buck.
Funding with corporate sponsors
"Bringing in game-day sponsorships in game promotions and actually getting cash dollars for that started the UA marketing program," said Scott MacKenzie, the director of marketing and promotion at UA.
Fast forward to the 1998-99 fiscal year and the UA is now close to achieving the multi-million dollar plateau in sponsorship gross revenue, as it reached more than $1.8 million.
"When we first started our corporate partner program about seven or eight years ago, we had to call them," said John Perrin, UA senior associate athletic director for business affairs. "But, we have been so successful, that a lot of our leads come from people calling us now."
When Livengood took over in 1994, his main goal was to make UA one of the top-10 programs in the country.
During his tenure, UA has maintained that top-10 level of excellence by finishing ninth or better in the Sears Directors' Cup rankings, which take into account every Division I sport, the past seven years.
"Our philosophy is to try to make sure all of our 19 sports are funded at a level that will allow them to compete at a top-10 level nationally," Perrin said. "Whatever it takes, we try to provide, and the results of that have been quite positive as you can see in the Sears voting."
In order to provide for all 19 programs, the athletic department operates with an annual budget of about $26 million. Only about $1.5 million of that comes directly from the university, so sponsorship is an important part of the funding process, UA President Peter Likins said.
"It really is essential at this stage to finance these operations without tapping into student tuition or government resources," Likins said.
In fact, the athletic department will receive a decreasing amount of funding, as officials agreed to a 33 percent reduction during the next five years to help fund the new student union.
'We actively solicit sponsorships'
As a result, the UA is forced to rely on sponsorships and donations to fund its programs. The university now boasts 34 corporate sponsors that advertise in different areas of the athletic department.
"We actively solicit sponsorships," MacKenzie said. "If we have some exclusive sponsorships such as Cellular One, we don't go out and solicit other companies like that, but if you have fast foods such as Burger King, it doesn't mean that we aren't going to talk to McDonalds."
MacKenzie said sponsors sign contracts ranging from one to three years, but it is the multi-year deals that receive the most benefits.
"You really get to see the benefits and the association develop after a couple of years," he said. "If you just have a one year deal it won't be as beneficial, but if you sign a three-year deal as opposed to a one-year deal, it is better and it will cost you less."
Pepsi-Cola Co. began working with the athletic department on July 1, 1998 and has been implementing programs to raise attendance at football, baseball, softball and women's basketball games.
Programs such as the Pepsi Family 4 Pack have been producing a rise in ticket sales at most of the events. The Pepsi Family 4 Pack, which is a special offer available for selected games in football, volleyball, women's basketball, softball and baseball, includes four game tickets, four hot dogs, four Pepsi drinks at the game and four items such as beanie babies or tee-shirts, all for a discounted price.
Pepsi has a 10-year contract with the UA that includes athletics, campus life and Spring Fling. The company also sponsors the Pepsi Red/Blue scrimmage for the men's basketball team, the Pepsi-Cola Wildcat (golf) Tournament and the Arizona Softball Classic.
"We gave a request for proposal (RFP) two years ago and we won the RFP. Since then we have been the university's main pour," said Mary Dunkel, the marketing director for Pepsi-Cola of Tucson for the past 21 years.
Dunkel added that her company was interested in the less visible sports, especially after the NCAA passed the Title IX gender equity requirement.
"We have tried to support areas that need attendance and visibility," she said.
Pepsi-Cola's advertising ploys were evident during the football game against the University of Texas El-Paso last season on Oct. 16. The game was the centennial game for UA and the Pepsi Family 4 Pack included centennial T-shirts as well as game tickets and hot dogs.
Dunkel also said the relationship Pepsi-Cola has with the university has been special.
"This is not a money making proposition for us, we just love being associated with the university," she said. "We would love to promote men's basketball, but that isn't something they need. We are looking to help promote areas that they need help in and we follow their needs. I think it has been great."
Other contracts
Another company that advertises with the UA athletic department is Farmer's Insurance, which is spread throughout the state.
The Tucson-based Farmer's Insurance is involved with making team posters before the season begins and giving radio spots during UA sporting events.
Denny Smith, a representative for Farmer's Insurance in Tucson, said they have had an advertising package with UA for 12 years and 65 percent of their agents participate with their own money.
The company make posters for the baseball, softball, women's volleyball, men's basketball, women's basketball and football teams. Farmer's Insurance is looking to add to that list by making posters for the gymnastics, soccer, and/or possibly the swimming teams.
"Printers and everything doesn't come cheap, but the rest of the money that is left over goes to support the programs," Smith said. "Our job is to raise the money, their job is to make sure it goes where it needs to go. They have done a great job of doing that."
Perrin said the UA contract with Nike calls for the company to pay the athletic department for licensing and sponsorship fees, which equals close to $100,000 a year.
"But, on top of that they provide us with about $800,000 of product per year," Perrin added. "It doesn't come in as a revenue, it just means that we didn't spend that money that we would have otherwise spent."
The products Nike gives the UA include sneakers, equipment and clothing.
Cellular One is also one of the most notable corporate sponsors at UA, as its logo is written on Lute Olson Court at McKale Center.
Perrin said the deal with Cellular One, which brings in about $260,000 a year, includes floor logos and signage at every venue, including tailgate parties.
Dan Rosen can be reached at sports@wildcat.arizona.edu.