Swimming prodigy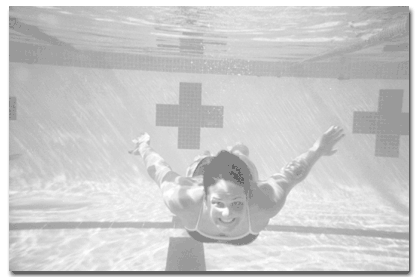 Matt Capowski
Arizona Daily Wildcat
Freshman Beth Botsford enjoys a light moment last week at Hillenbrand Aquatic Center.
Botsford has experienced amateur, Olympic, NCAA success
For Arizona freshman Beth Botsford, qualifying for the 1996 Summer Olympics in three events at 14 years old was nothing short of a dream come true.
"I can't put all of the emotions that I was feeling into words," Botsford said of the experience.
That summer in Atlanta, Botsford's dreams turned into reality as she won gold medals in the 100 backstroke and 400 medley relay.
Since that memorable summer, the determination and dominance has not ceased. In her first collegiate season, Botsford survived - actually, she eliminated - any discomfort sometimes created with the transition from high school to college and won her first NCAA individual title.
With her swimming career steamrollering like an avalanche, Botsford seems set to dominate the college ranks for three more seasons. While this fact may be inevitable, Botsford's ability as a swimmer did not develop overnight.
A young start
At age nine, Botsford gave up essentially every aspect associated with a "normal" child's life to pursue her dream of swimming. By nine, she began practicing everyday with a local club team. Right away, it was apparent that Botsford was going to be a specialist in the backstroke and butterfly events.
"She gave 100 percent every day because she knew what it took to be a great swimmer," said her father, Kevin Botsford.
It didn't take long for Botsford to splash on the national spotlight. At 10, she set national records in her age group in the 50-yard, 50-meter, 100y and 100m backstroke events.
Her domination would continue throughout her progression as a swimmer, as she broke the 50m butterfly U.S. record at 12 years old.
Despite Botsford's success, those close to her during these critical years tried not to put too much pressure on her while she was chasing down her dream.
"We never had any expectations for her," Kevin Botsford said. "We were just excited about all the success that she was having."
As she entered high school in Timonium, Md., Botsford was getting closer to her Olympic dream, but there was one catch - her school did not have a team.
So she continued her training at the club level, which gave her more national exposure.
In high school, she practiced 10 times a week for an average of four hours a day. Her workouts were filled with numerous strength and conditioning exercises.
The early mornings and long workout sessions paid off, though, as she was added to the '96 Olympic team. Preparing for the biggest meet of her life was a chore in itself, especially at the age of 14. But to avoid distraction, she tried an approach she had used hundreds of times.
"I looked at this meet as any other meet," Botsford said. " I tried to keep to myself and not get caught up in everything."
As a member of the U.S. team, she would interact with another swimming prodigy - breaststroker Amanda Beard. It was during the practices and meets that Botsford would get to know Beard, now a UA freshman.
"Beth and I were close during the Olympics. We were on the same relay team, which meant that we practiced a lot together," Beard said.
Her Olympic dream turned out to be a lot better than she had ever envisioned, as she was a double gold medal winner in the 100 backstroke and the 400 medley relay.
"We were surprised she made the Olympic team, and we never thought she would ever do as good as she did," Kevin Botsford said. "We were just so happy for her"
The next level
As the Olympics came to an end, Botsford's career was just blossoming. She was recruited by Southern California, Georgia, Southern Methodist, before deciding on Arizona because of the positive relationship she had with head coach Frank Busch.
"I knew Frank since 1995, and I love his honesty," Botsford said. "I appreciate his honesty because he is straight forward about everything."
Also, Busch's coaching and training tactics varied greatly from her coach at home. She was looking for a change in order to avoid being burned out. After her Olympic success, swimming became more of a chore rather than something that she loved to do.
"Arizona allowed to me to once again enjoy swimming," Botsford said.
Arizona has been a perfect fit for Botsford, as it has risen to the nation's elite with top-five finishes the last four seasons.
The UA coaching staff was happy they could have a swimmer of Botsford's caliber join their program because she was such an experienced swimmer.
As a freshman, her experience showed as she became one of the team's leaders.
"Her Olympic experience makes her a leader due to all of her accomplishments," said Jeanne Brophy, one of the team's assistant coaches. "She inspires the rest of the team through her hard work and love for the sport."
"She is not afraid to share her fears and success with her teammates, which helps others understand how to enjoy swimming and be successful at the same time."
UA senior Denali Knapp, a 23-time All-American, considers Botsford as somewhat of a mentor.
"I looked to her for help throughout the season," Knapp said. "She showed me how important it is to have fun."
Instant impact
Besides leading by example, Botsford also led in the pool, as she was the Pacific 10 Conference and NCAA champion in the 200 backstroke. Her NCAA winning time of 2:06.70 was a new American record. She also finished third in the 100 backstroke.
She was also named the Pac-10 Women's Newcomer of the Year.
Her leadership and success helped the women's team earn their first ever Pac-10 title and its school-best second-place finish at the NCAA Championships in March.
For Botsford, her swimming career is about to come full circle, as she is preparing for this summer's Olympics in Sydney. She will try to qualify for the U.S. team again in the 100 and 200 backstroke events, as well as the 100 butterfly.
But, even if she repeats her two-gold performance, it may not live up to what she has at Arizona, at least if the '96 Olympics were any indication.
"My collegiate experience was a lot different than my Olympic experience," Botsford said. " I love the strong sense of team spirit and unity through practicing everyday. While I was on the Olympic team, I was an independent and on my own."
Brian Penso can be reached at sports@wildcat.arizona.edu.