Cordial 'Cats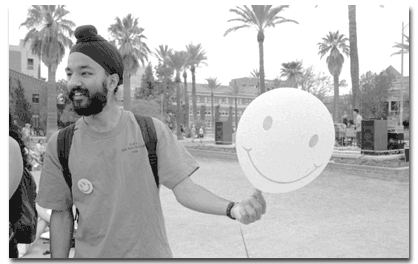 Sarah Brown
Arizona Daily Wildcat
Latin American studies and sociology junior Sonny Suchdev passes out balloons and buttons of the smiley face to promote a friendly campus, on the mall yesterday afternoon. The band "Good Question" provided an upbeat atmosphere to attract students to the friendly celebration.
Beyond Tolerance and Residence Life try to improve UA's
When Alexander Offord walks across the UA campus - wearing black eye makeup, army fatigues and a Type-O Negative T-shirt - he said he often gets a negative reception.
But as he stood among the scores of bright yellow smiley faces yesterday, Offord said he appreciated the University of Arizona's first "Operation Friendly Campus."
"I think this is really cool," Offord, an electrical engineering freshman, said. "I didn't know they were going to do this."
"A lot of people are assholes around here," Offord said. "But then, I always say that some people are nice, too."
Hoping to improve the atmosphere on campus, Beyond Tolerance, a student anti-racism organization, along with the UA Department of Residence Life, sponsored Operation Friendly Campus yesterday.
Fundamentally, Beyond Tolerance tried to prompt students to greet each other all day yesterday, even if they were not acquainted.
Some people did not receive the program as well as Offord. One woman snapped at Matt Helm, coordinator of multicultural education for Residence Life, when he greeted her.
"Good morning," Helm said.
"Enough already," she replied.
"That's the first one like that today," said Helm. "That's the reason we're doing this because when you walk across campus and look at people, they won't make eye contact."
After greeting passers-by on the UA Mall for only an hour, Helm said he had already seen a difference in many students.
"We've had students come up that would have walked by and told us they would say hi to everyone they see," Helm said. "You never know how it might make someone's day to say hi to them."
Erika Wakker, a Latin American studies freshman, said while response to Operation Friendly Campus had been generally positive, she is usually uncomfortable with the campus atmosphere.
"I don't feel comfortable anywhere I walk around here," Wakker said. "I feel like I have to be superficial to be included in the norm, and it seems like everyone is so miserable."
Matt Case, a history sophomore and Beyond Tolerance member, developed the idea for Operation Friendly Campus after he noticed "people walking with their heads down between their classes and not really acknowledging that other people are there."
"For some people, they don't know what the hell we're doing," Case added. "They wonder why someone is saying hi to them on campus, which is the way it is all over campus."
Case said while he didn't know if Operation Friendly Campus would be an annual event, it could make a difference nonetheless.
"I think it will make a lot more people feel welcome at school," Case said. "It's always good to know someone else acknowledges your existence."
However, Helm said he hoped to hold other Operation Friendly Campus days next year, such as one in the fall when many students first come to UA.
Helm said Residence Life and Beyond Tolerance hoped to create a "friendlier, more caring, more inclusive campus" with yesterday's program.
"We're trying to make it nicer for everyone - for gays and lesbians, for students of color, for older students, for students with disabilities - and just saying 'good morning' spans to all cultures," Helm said.
"I think it's one of those times when a great idea gets put into application," Helm added.
Jay Dirner can be reached at Jay.Dirner@wildcat.arizona.edu.