Earth Day celebration brings campus, local and national groups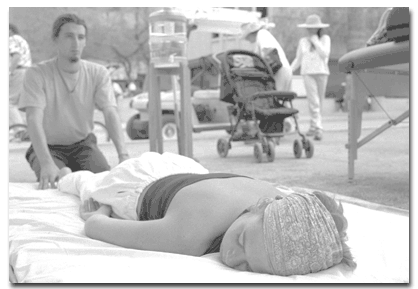 Amy Winkler
Arizona Daily Wildcat
Otter Cushing enjoys Shiatsu, an Asian body massage, performed by Providence Institute employee Tim Ostrom on the UA mall Friday afternoon. The Providence Institute provided body therapy and Yoga as part of an Earth Day celebration.
UA Mall alive with activities honoring the planet
Several dozen campus, local and national organizations came out to the UA Mall Friday to celebrate nature conservation as part of annual Earth Day activities.
The University of Arizona Horticultural Club took part by selling various potted plants.
"Basically, we grow stuff and sell it," said Nathan McIntyre, an astronomy and archeology freshman. "And we've sold a bunch today."
The UA Department of Residence Life held a recycled materials art competition, which drew four entries and resulted in an even four-way tie - with all of the artists splitting the $50 prize.
Various local organizations were also participants in the fair.
Mark Williams, an employee of the Food Conspiracy Co-Op, 412 N. Fourth Ave., handed out various foods, including navel oranges and energy drinks.
"Everything we sell is organic," said Williams.
Richard Valdez, a manager from the Tucson Cooperation Warehouse, said his store also sells only organic foods.
"We believe that all food which is genetically modified should be labeled," Valdez said about the store, 350 S. Toole Ave.
In addition, the Buffalo Exchange, a used clothing store, was on site advocating the preservation of wild buffalo and sponsoring a clothing donation drive to benefit Yellowstone.
The Tucson Herpetological Society also advocated the conservation of desert reptiles and amphibians.
Local band Turban Jones was on hand from noon to 1 p.m.
Solar-powered devices - including a sun-powered fountain and car - were also on display.
"It is not motorized and must be magical," said media arts senior Derek Griffith while admiring the fountain.
Other popular attractions for fair-goers included free yoga classes and various types of massages provided by the local Providence Institute, 1126 N. Jones Blvd.
B.J. Cordova, an environmental science junior and volunteer student worker, received a free Shiatsu massage.
"I really just wanted a regular old back rub, but this is way better," Cordova said.
"Shiatsu is an Eastern form of massage which uses Meridians as energy passageways... it intertwines circulation and aspects of ourselves - spirit, body and mind," said Pamela Lancaster, a Shiatsu therapist.
Kris Schaefer, a volunteer coordinator for the Institute, said there was a large turn-out for the yoga classes.
"There has been plenty of people participating, even those in wheelchairs," she said.
The Network Chiropractic, 5923 E. Pima St., also provided services free of charge.
"We are offering free chiropractic adjustments, it's very relaxing... the four tables we had were always full," said anthropology and French junior Sarah Malaiki, a clinic patient and volunteer worker.
Lancaster's six year-old daughter Taya summed up Earth Day while her mother was nearby performing massages.
"You don't just have to throw away your paper cups - that is what it's all about, you can recycle," she said.
Other campus and Tucson groups on hand were the UA Student Union Recycling organization and the Ecology Club. Local organizations included Desert Waste Management, Pima County Environmentalist, the Tucson chapter of Earth First and the Arizona League of Conservation Voters.
Many national environmental organizations took part in the fair as well, including the Peace Corps, the National Forest Service, the Animal Defense League and the Green Party.