Selling themselves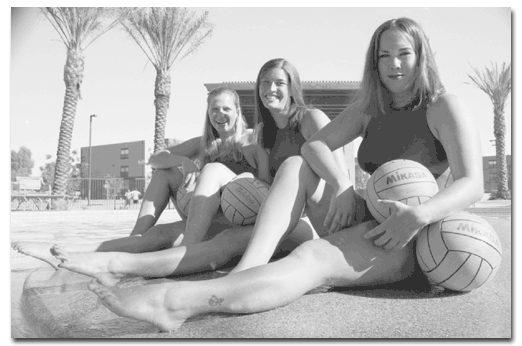 Sarah Brown
Arizona Daily Wildcat
Jennifer Strelow, left, Alexis Shubin, middle, and Sarah Dismukes, right, enjoy a moment out of the water at Jefferson Commons last week. The women's water polo team will host the club water polo championship this weekend at the rec center.
Water polo team fights for funding, respect
Sophomore Alexis Shubin is a skilled water polo player, able to avoid opponents with surprising quickness and the ability to fool opposing goaltenders with her deadly shot.
Despite her talent in the pool, Shubin's true talent may be sales.
Shubin and other members of the Arizona club women's water polo team help to offset costs by performing fundraising events throughout the season. That often means getting students to sign up for credit cards for a commission, to hawking food at the Arizona Diamondbacks' spring training games.
"It's all about three (words)," said Shubin, the team's set guard.
"Fundraising, fundraising, and more fundraising. Between suits, travel and training, that's a lot of money."
The team, which gets only a small stipend from ASUA at the beginning of each season, uses fundraisers to offset the expenses, which often cost the program $20,000 per season.
The proceeds from the team's fundraising go toward uniforms, travel and other expenses. Because of the team's "club" status, the squad cannot use the university's nickname, nor do they receive much funding from the school. The team only raises a small percentage of the $20,000 needed.
At best, set guard and team president Pam Gargle believes the team raises $5,000 annually.
"ASUA gives us a little, but nothing significant at all," she said. "We do the fundraisers as a team. You get what you put into it."
For a bunch of peanut vendors, the Arizona women's water polo team is pretty successful in the pool.
Between school, fundraising, practices and games, the team has managed to stay atop the Southwest Conference. In the conference tournament, April 15-16 at the Student Recreation Center, the team won four games in two days for the title.
On April 16, the team defeated Northern Arizona in the finals, 9-5, for the conference championship.
Following the tournament, Shubin, senior wing Jennifer Strelow and junior goaltender Sarah Dismukes were named to the all-conference team. In winning, the team qualified for nationals, which takes place at the rec center on May 5-7.
"It's a lot of hard work, and sometimes, people don't even know we're alive," sophomore driver Jen Burns said. "It's all worth it because we get to stay for nationals."
For the team, hosting nationals will be a chance to regain respect in the water polo community after being demoted to club status last season. Until the start of this year, the team competed at the Division III level.
"Hosting is going to make us look more credible to the schools," Shubin said. "Last year, we played in Division III nationals, so we should do just fine on the club level."
For Gargle, the decision to host the nationals was also based on cost.
"Think about it, we could have been in a situation where we had just a week before we flew somewhere like Michigan. It's actually less expensive to stay here," she said.
The team hopes to one day to become a Division I varsity sport, though the switch to club status has been received with mixed emotions.
"We basically got blown out last year in the Division III nationals," Shubin said. "We can be more competitive as a club team. There's more teams on our level, that is, teams with similar financial limits as us."
Gargle, though, believes that sanctioning would give the players the respect they deserve.
"During the school year, we try to reschedule tests and papers if we have to be out of town," she said. "Some teachers are like, 'You're not a real sport.' If we were any other varsity team on campus, they would understand. We feel like we're getting a raw deal sometimes."
Burns agrees.
"Sometimes, we'll get out of tests because we're at tournaments," she said. "But for the most part, we don't get the respect that a lot of other teams get."
However, the odds of the team becoming sanctioned by the NCAA in the near future are slim.
"Eventually, we'll become a varsity sport," Gargle said. "We know that when it happens, most of the girls playing now won't be around to watch it happen. We're just trying to move up from where we are, a little bit at a time."
Until then, the team is content playing games in front of only a handful of people and paying their own way through another successful season.
"Winning makes it all worthwhile," Shubin said. "There's a lot of heart on this club. Heart makes a big difference."
That's a sales pitch people can't help but buy into.