CBS building renamed Henry Koffler Building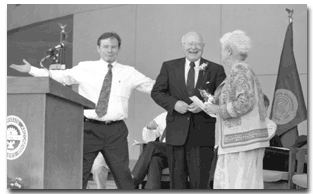 Sarah Brown
Arizona Daily Wildcat
President Likins enthusiastically presents Henry Koffler and his wife Phyllis with the dedication of the renamed Chemistry-Biology building as the Koffler building in a ceremony yesterday afternoon in front of the structure. Henry Koffler worked extensively on the concept of the Chemistry Biology Laboratory and Classroom Building during his presidency from 1982 to 1991.
Likins officiates ceremony honoring former UA president
The Chemistry and Biological Sciences building was renamed the Henry Koffler Building yesterday in honor of the former University of Arizona president's nine years of dedication to science and research.
President Peter Likins officiated the dedication ceremony in front of the building's unique figure-decorated arch.
Likins talked briefly about Koffler's contributions to the university during his term as president from 1982 to 1991, and jokingly added he was glad Koffler could be recognized during his lifetime.
"It's a wonderful thing that this can be a tribute rather than a memorial," Likins said.
Speakers then took turns paying their respects to Koffler, who sat by his wife on stage and looked out at the more than 100 people gathered to watch the ceremony.
The crowd included deans and members of Koffler's cabinet, colleagues who flew in from outside of the state, architects of the building and current faculty working in the building. Silverwood Duo played chamber music and a reception followed the dedication.
"I want to thank all the wonderful people who have helped and supported me throughout the years, including my mother and my partner Phyllis," Koffler said, speaking last.
Koffler talked about the lessons he has taken away from his stint at the university and the personal connections he had made while here.
"I learned that instead of trying to do everything, strengthen the things you know you can do well at," he said. "Of the 200 faculty members, about a third of them became good friends of mine."
Hank Amos, Arizona Board of Regents president, spoke about his experiences with Koffler and about the progress the university made during his term.
"As a regent, I found the history of this building particularly interesting," Amos said, then turned to address the honoree. "Dr. Koffler, it gives me great pleasure to be a part of the ceremony renaming this building in your honor."
John Law, Arizona Research Labs regents professor, said the UA's science program is one of the reasons the university receives grants, awards and recognition.
He then lauded Koffler's innovative method of combining chemistry and biology in one building and the benefits reaped from that marriage.
"He used the techniques of chemistry to unlock the mystery of biology," Law said.
The building began construction in 1989 and was completed in 1991, Koffler's final year as president, and houses 22 chemistry laboratories, 17 biology laboratories and three lecture halls.
Nils Hasselmo, president of the Association of American Universities, praised Koffler's career and contributions to undergraduate education, including expanding the general education and honors programs, increasing student enrollment by 30 percent, implementing the first online student information system, improving academic connections with community colleges, and improving enrollment and conditions for minorities.
Peter Macgrath, president of NASULGC, talked about his personal relationship with Koffler and reiterated his impact on the school.
"In life, which is not perfect, there are perfect moments. Naming this building after Henry is one of those moments," he said.
Cisco Aguilar, ASUA president, said that as a student he can attest to the need for a "productive learning environment."
Aguilar said he surveyed students regarding what they like about the building. Students listed several aspects of the structure including the ventilation system, the lecture halls and labs.
"One student said, 'Isn't that the building with all the little people in front of it? Yeah, I like that one,'" Aguilar said.
Koffler concluded his remarks by stating his philosophy on higher education and a prediction for the future of UA.
"The way you build an institution is one brick at a time. One precious student, one precious faculty member at a time. No institution is built overnight and a lot of blood, sweat and tears went into this one," he said. "I offer one prediction - under the leadership of Peter Likins and people like him, the best is yet to come."