Wildcats in 3rd place in Pac-10 standings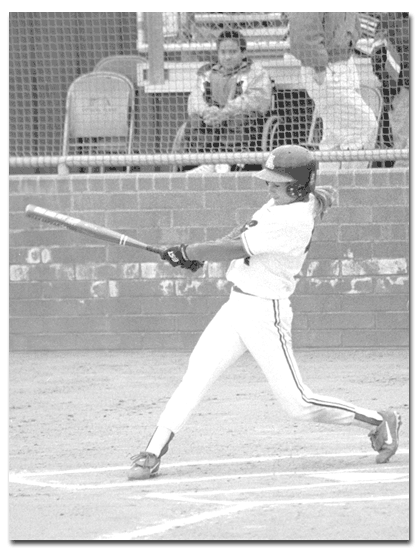 Eric M. Jukelevics
Arizona Daily Wildcat
Arizona junior center fielder Nicole Giordano hits the ball against Indiana, March 5, at Rita Hillenbrand Memorial Stadium. Giordano leads the Pacific 10 Conference with 80 hits and is second in batting average.
Arizona among the nation's leaders statistically
With only three weeks left in Pacific 10 Conference play, the Arizona softball team finds itself in a three-team race with UCLA and Washington for the conference title.
The Wildcats (45-7 overall, 8-4 Pac-10) are currently two games behind the conference-leading Huskies and one game in back of the Bruins.
"Washington might think they have it on us, but we have learned a lot playing them," junior pitcher Becky Lemke said of the team's 0-4 record against Washington. "It is going to be another story when they come down here."
The three teams are symbolic of the Pac-10's strength, as Washington (47-5, 9-2) is the top-ranked team in the country, followed by No. 2 UA and No. 3 UCLA (33-7-1, 8-3).
The Huskies have been the No. 1 ranked team since the second week of the season, and neither UCLA nor Arizona has slipped lower than No. 4 in the NFCA/USA Today poll.
"That just shows how tough the Pac-10 is," junior center fielder Nicole Giordano said. "Anyone can lose to anyone, the Pac-10 is basically going to be the (College) World Series this year."
***
Right fielder Chrissy Gil's game-clinching two-run homer in the seventh inning of Saturday's 3-0 victory against Arizona State was a fitting way for the senior to go out in her last regular season at-bat against the in-state rival.
"We were so proud of her, it was just an unforgettable moment for her and us," junior left fielder Lauren Bauer said.
With the win, Arizona was hoping to begin a new winning streak against the Sun Devils, as Arizona State had snapped a 38-game losing streak to UA the night before with a 3-1 victory.
"We are going to make our own little streak starting now, and it is going to last for a while," Giordano said. "I think the streak needs to be important to everyone."
***
Even though the Wildcat's offense has cooled off a bit lately, it still ranks among the Pac-10 and nation's elite.
Arizona is leading the conference in runs per game with a 6.44 average and in batting average at .344.
The team's batting average is even better out of conference, as UA leads the nation in overall batting average with a mark of .351.
"I just think everyone has confidence in themselves, and it is distributed through the lineup," Bauer said.
Much of the offense's success can be attributed to the hitting of leadoff hitter Giordano.
The junior center fielder is leading the conference with 80 hits and is second in batting average at .462. Giordano trails only Jessica Mendoza of Stanford, who leads the conference with a .465 average.
"I am taking a whole different attitude this year, I am not pressing this year," Giordano said. "I have a plan, I am not out of control."
She also doesn't expect her high average to slip either, "I don't believe in slumps."
Sophomore pitcher/first baseman Jennie Finch and junior Lindsey Collins are also among the conference and nation's leaders in the power categories.
Finch is third in the Pac-10 with 14 homers and 11th in the nation in average home runs per game at 0.28. Ironically, none of Finch's 14 home runs have come during Pac-10 play, though.
"Just every time I go up, I clear my head," Finch said. "Every time I go up, I just want to hit the ball hard."
Collins is second in the Pac-10 with 49 RBIs and tied for fifth with 11 home runs. She ranks 18th nationally with a 0.98 RBI per game average.
***
Not to be outdone by the hitting, the UA pitching staff and defense also rank among the nation's leaders.
Arizona owns the highest fielding percentage in Division I softball with a 9.79 average.
"We are just solid, you can look at every position, and we are just solid," Lemke said. "I don't think we have any weaknesses."
Lemke isn't too bad herself, as she is leading the Pac-10 in strikeouts and is third in victories with 23.
"The key to my victories has been confidence and with my experience on the mound," Lemke said. "I think mostly confidence and knowing my defense can do it."
She is ranked 10th in the country in strikeouts per seven innings with an average of 9.2, and her 23 victories rank her eighth among Division I pitchers.
Finch is eighth in Division I with a 0.62 ERA and 11th in victories with 21.
The pitching duo has combined to give the Wildcats the third best winning percentage in Division I at an .880 clip.
Chris Martin can be reached at sports@wildcat.arizona.edu.