Diggins will enter amateur draft, coach says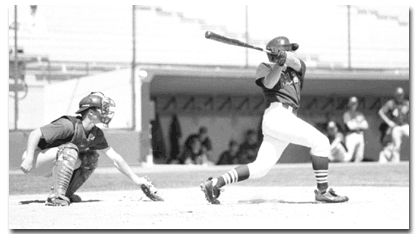 Amy Winkler
Arizona Daily Wildcat
UA sophomore left fielder Kenny Huff fouls off a pitch against Southern California on April 2 at Sancet Field. Huff hit for the cycle in last Saturday's 21-3 victory against Washington State.
Wildcat ace will likely go in first round
The UA baseball team will most likely lose one of its best players at the end of the season, head coach Jerry Stitt said yesterday.
Sophomore pitcher Ben Diggins, the country's top collegiate prospect according to Baseball America, will likely enter into baseball's amateur draft, which takes place June 5-6.
Stitt is preparing to deal with life without the sophomore.
"It is (a forgone conclusion)," he said. "We're going to lose Ben. We've already come to that conclusion."
Diggins, whose fastball has been clocked in the mid-90's all season, will likely be drafted in the first round.
The Florida Marlins, which have the first pick in the draft, scouted Diggins intensely at the beginning of the season but have backed off in recent weeks.
"The people who have seen him the past three or four weeks are not the people who have the top picks," Stitt said.
Following last Friday's loss to Washington State, Stitt accused the sophomore of having too much movement on his pitches.
"He was throwing 95 the other night," Stitt said. "The ball is just alive-- that's the only word for it."
Diggins, a tall right-handed starter, reminds some UA fans of ex-Wildcat and current Baltimore Oriole Scott Erickson. Erickson, who pitched at Arizona in 1989, holds school records for wins in a season (18) and innings pitched in a season (172 2/3).
But according to Stitt, Diggins' future may be brighter than Erickson's.
"When Erickson pitched, he was a junior and had two years of (junior college) ball behind him," Stitt said. "Honestly, I think Ben's ceiling is higher than Scotty's."
Diggins, a hard thrower, may be best served on the professional level as a closer, Stitt said.
"Pitching against wooden bats, Ben's going to be a dominant guy in professional baseball. If they put him in the bullpen in the closer, he's gonna be something."
נננ
The Wildcats rounded out their 2000 recruiting class last Thursday by signing Catalina Foothills pitcher Kevin Rupprecht.
The right-handed pitcher is 9-1 with three saves in 17 appearances so far this season. Doubling as the team's cleanup hitter, he is also batting .408 as the team's designated hitter.
Stitt is excited about Rupprecht's talent.
His signing marks an Arizona overhaul in arms -- 10 of the team's 14 signees are pitchers.
"With the guys that we're losing either to the draft or to indeveloped ability, we have to bring in a good number of guys," Stitt said. "We've already signed 10 guys and locked in a couple of walk-ons."
The Wildcats, who have been plagued by poor pitching throughout the season, will not have a shortage of pitchers next season.
"At start of fall, we're going to have 20 pitchers going for 15 spots," Stitt said. "It's going to be a great situation."
Rupprecht is highly regarded by his high school coach, Jason Hisey.
"Kevin is having the best year of any pitcher we've ever had," he stated in a press release. "He has the mental capacity to be a really good Division I pitcher."
The only questions surrounding Rupprecht have to do with his arm strength.
"His velocity has really come around this season, (Rupprecht) needs to develop some arm strength," Hisey said in a press release. "He'll do that under (UA pitching coach) Bill Kinneberg."
Rupprecht, who narrowed his choices to UA and Central Arizona Junior College in Casa Grande, made it known that Arizona was his first choice. That enthusiasm was not lost on Stitt, who continues to tap the local high school scene for talent.
"Anytime you get a local kid that is totally tuned into University of Arizona, its great," Stitt said. "We want our local kids to stay here and play."
Ryan Finley can be reached at sports@wildcat.arizona.edu.