Ex-Wildcat taken in WNBA draft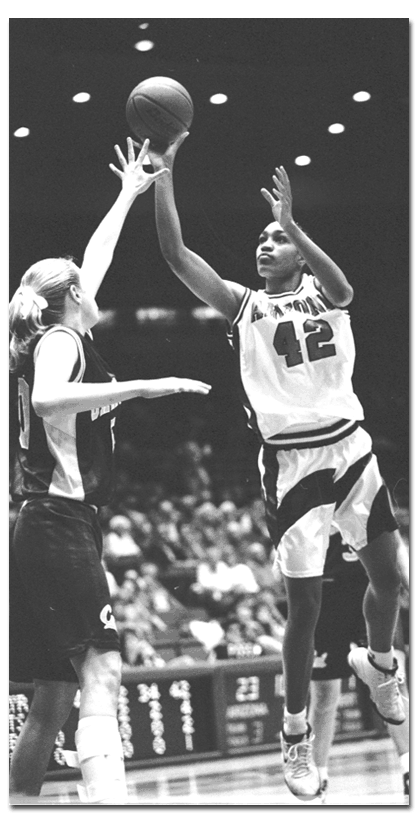 Wildcat File Photo
Arizona Daily Wildcat
Former UA women's basketball player Marte Alexander goes up for a shot in the 1997-98 season. Alexander was drafted in the third round by the Los Angeles Sparks in yesterday's WNBA Draft.
'98 grad Alexander selected by L.A. in 3rd round
Marty Alexander, who played for the UA women's basketball team from 1995-98, was selected in yesterday's WNBA draft after spending two seasons playing overseas.
Alexander was taken in the third round (47th overall) by the Los Angeles Sparks, which lost in the finals of last year's WNBA Finals to the Houston Comets.
Denise Dove Ianello, UA women's associate head coach, said Alexander has a good chance of succeeding in the league because she has consistently improved with time.
"Some players will peak out in high school, some players will peak out in college, but I think with Marty, she'll peak out in the professional league," Ianello said.
Alexander, 24, began playing basketball when she was in eighth grade, Ianello said, and improved her game in each season after that. In her last season at UA, Alexander helped lead the team to its first-ever Sweet 16 appearance.
In her four-year career at UA, Alexander averaged 8.9 points and 5.1 rebounds per game. During her senior season, though, her numbers were significantly better, as she scored 12.9 points and pulled down 6.5 rebounds a game.
In addition, she set a new school record for blocked shots with 141.
In Arizona's NCAA Tournament game against Santa Clara in 1998, Alexander was instrumental in leading the Wildcats to a 75-63 victory. She had a team-high 23 points and five rebounds in the win.
"We wouldn't have beat Santa Clara in '98 without her," Ianello said.
After graduating in '98, she played professional basketball in Italy for the Bees Treviglio.
Ianello said the biggest assets working for Alexander are her intelligence, height and athleticism, all of which she developed throughout her career, which began at St. Bernard High School in Playa del Rey, Calif.
"You could just see her evolving on the court," Ianello said.
In Los Angeles, Alexander will likely play backup to Sparks starting center Lisa Leslie. The Sparks open their season May 31 against the Utah Starzz.
Brett Erickson can be reached at sports@wildcat.arizona.edu.