Contemporary music abandons values of classical, UA prof says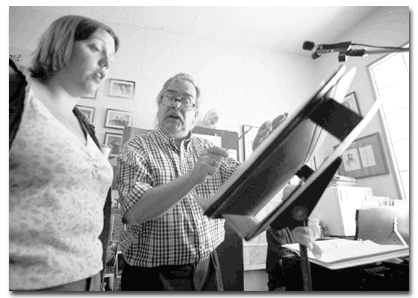 Arizona Daily Wildcat
Vocal techniques not being taught to contemporary singers
Nestled in the University of Arizona Museum of Art, professor Grayson Hirst provided a glimpse into the history of art music yesterday while speaking comparatively about contemporary music.
"We live in an age that favors re-evaluation of the classics," Hirst told the room of about 30 UA and Tucson community members.
Hirst said today's vocal teachers have abandoned 18th and 19th century traditions of teaching music, which subtracts the artistic element from vocals.
Hirst added that we thirst for "codification of the technology and scientific explanation for every phenomena," hence the more formal vocal education - 19th century and earlier - is receiving less attention than contemporary music.
"During the turn of the century, music started going in two different ways and before the turn of the century art music was the popular form," he said after his speech.
"With the advent of the radio and amplification there became a wide chasm between popular music and art music," he added.
His speech, "Backstage Passes: Reflections on Singing, Singers and Teaching Without Tears," was the last of UA's 1999-2000 Building an Academic Community Speaker Series.
Hirst said today's teachers and singers conceptualize classical music as softer and more agreeable in tone.
Today, teachers and singers also imagine art music as "a disciplined void of shouting, nasality, harsh sounds, disjointed registers and any evidence of vulgarity or bad schooling," he added.
Internationally celebrated for his musical feats as a tenor, Hirst - a UA professor of 14 years - has experience in art song, vocal chamber music, opera and oratorio.
Hirst also founded the Sons of Orpheus -The Male Choir of Tucson in 1991 to revive the art form of classical music.
Hirst spoke of several 19th century vocal teachers while focusing on "two of the greatest singing teachers of the 19th century."
The two greatest, he said, were Manuel Patricis Rodriguez Garcia II and Francesco Lamperti.
"Together Garcia Jr. and Lamperti Sr. gathered their vocal wisdom from close association with the greatest of the early 19th century virtuoso singers," he said.
"The principal element in both of their approaches seems to have been the training of proper respiration," he said, adding that contemporary music has long since removed itself from this practice.
Hirst also said that there existed a traditional vocal teaching that was handed down from person to person - almost as if the practice was genealogical.
However, he said it is not entirely genealogical.
Many teachers, such as his post-high school vocal teacher, are a part of "a lineal descendant of a great pedagogical traditional which stretches back into the Golden era of bel canto," or beautiful song.
These teachers, he added, do not manipulate or terrorize their pupils and they have a sense and extended education of vocal and musical history.
"People are still studying art music but with contemporary music, a lot of it is ephemeral - it comes and goes," Hirst said. "It's like Pokémon and it's the same with groups like N'Sync, Backstreet Boys and Britney Spears."
Leslie Selberg, a UA music freshman, said that although she was interested in some of Hirst's presentation, it was overburdened with information.
"I felt like it was more of a teaching lesson," Selberg said. "I thought it was interesting that he said we should listen to five different (derivations of) one piece - it's a different perspective."
Although she is currently taking voice lessons, Selberg said she didn't care very much for "stuff like dates - when they were born and died."
Hirst also said that although it is not purely a negative notion, he cannot imagine any of these bands lasting for 300 years - the endearing duration of time that art music has been studied.
Ridwan Poh, a computer engineering freshman, said he felt entirely different about Hirst's speech and enjoyed the historical accounts.
"He gave more information about the history of teaching and the history of opera," said Poh, who is also taking vocal lessons. "If we want to sing something we have to know the history - for example, different types of opera."
Poh also said past techniques tend to lay a foundation for later education.
"It's about the technique and how to sing well," he added.