Making the transition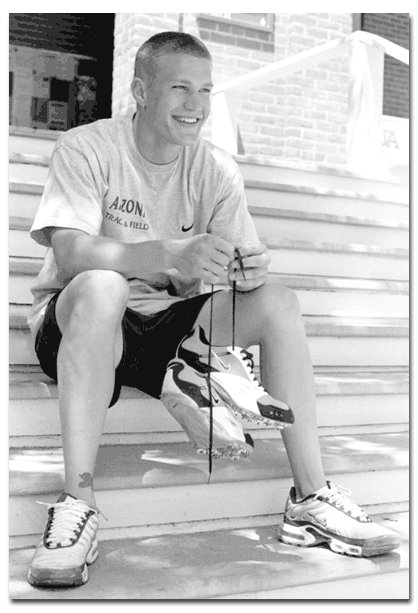 Arizona Daily Wildcat
Kenyon finds bigger challenge in Pac-10 than Big Sky
Mike Kenyon is always seeking a challenge. After underachieving at a small school in California, the sprinter is making the grade during his transition year at Arizona.
Coming out of California-State University in Sacramento, Calif., Kenyon has said the changeover can be seen as he has gone from being the hunted to becoming the hunter.
"Every meet there's bigger names than me, I'm not the big name guy," he said.
This is exactly the reason why Kenyon transferred to UA.
Arizona head coach Dave Murray said Kenyon's decision to come to Tucson was based on the fact that he was not challenged at Sacramento State.
"He wanted to run against the big boys, and the Pac-10 has the big boys," Murray said.
In one full season at Sacramento State, Kenyon's competition was under-par, which led the sprinter to underachieve. Instead of being forced to push himself to keep up with the competition, Kenyon continually cruised to easy victories, never seeming to improve himself.
This attitude ended up hurting Kenyon when the Big Sky Conference Outdoor Championships rolled around at the end of last season.
"I didn't even qualify in the 200 (meters) in the Big Sky (championships) cause my time wasn't fast enough and my coaches were questioning, 'why aren't you running a good time?'" Kenyon said.
Knowing his potential, Kenyon's coaches decided to enter him in as the team's wildcard runner. Kenyon proved they made the right decision, as he went on to win the preliminaries. Eventually, he won the Big Sky Championship in the 200m and then added on the 400m championship later that day.
With the victories and the lack of competition, though, Kenyon knew he had to make a change.
With the reputation of Murray and sprinting coach Fred Harvey, Kenyon decided to take his talents to the UA this year.
"His times were legitimate enough to compete in the Pac-10's," Harvey said. "(I'm) impressed with his ability to handle the competition."
The transformation has been smooth, too, as Kenyon has proved he was ready to run with the big boys in track and field.
Under Harvey's tutelage, Kenyon has developed himself into a student of the game, learning more and more about how to run his race.
Improving his technique, strength and racing intelligence Kenyon has consistently improve his times in the 200m and 400.
"That's the biggest thing, is learning a lot more about my race and a lot more about what goes into becoming successful," Kenyon said.
Kenyon has also learned to follow in the footsteps of fellow teammates like senior Carolyn Jackson.
Jackson, a quarter-miler and three time All-American, has set the precedent for Kenyon to imitate by providing leadership and guidance to the sophomore.
"He's improved, but he still has room to improve," Jackson said. "He has the potential to run even faster and if he stays on track he can do it."
Already in his short stint at the UA, Kenyon has started a small rivalry with Tony Berrian, a runner from his past who just happens to run for in-state rival Arizona State.
Both runners hail from Sacramento and faced each other many times during their high school years.
The two have competed against each other twice this year, with Berrian winning both times. The last time out at the Arizona Elite Classic, Kenyon made a dramatic step in vying for his first win against his hometown foe.
Coming off the final turn in the 400m, Kenyon led Berrian after 300m, but lost out to him at the tape.
"I came off the turn in first place, and I kind of panicked," Kenyon said.
It won't be the last time the two face each other, though, as Berrian will travel back to Tucson in two weeks, to run in the "triangle meet" which features all three in-state schools - Northern Arizona, ASU and Arizona.
After that, they'll face off again in the Pacific-10 Conference Championships in Eugene, Ore. May 20-21, a meet Kenyon feels very confident about.
"I plan on winning Pac-10's (championship), the field is wide open," he said.
With a Pac-10 Championship, Kenyon would make the ultimate transition - from underachiever to champion.