Do or die time for Laxcats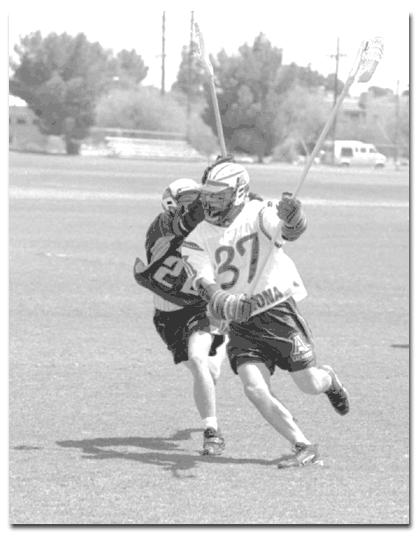 Arizona Daily Wildcat
Arizona faces Cal in WCLL semifinals
The Western Collegiate Lacrosse League semifinals continue tonight when the Arizona Laxcats head to the University of California at San Diego to take on California.
The Golden Bears, ranked No. 2 in the U.S. Lacrosse Intercollegiate Associates, lost to Arizona last year for the right to go to St. Louis for the National Championships.
The No. 10 Laxcats have been hampered by off field distractions all season, but feel their team has come together at the right time.
"I think the Laxcats are more of a playoff team," junior mid-fielder Matt Wilkens said. "We have had a lot of distractions this season but I think once the playoffs start we put those distractions behind us and can become more focused."
If the Laxcats can beat Cal tonight, they will face Sonoma State University on Sunday for the WCLL championship crown. With a victory against Cal, the Laxcats should get a wild card berth to St. Louis for the National Championships, even if they lose to Sonoma.
Last weekend, the Laxcats beat Loyola-Marymount University 22-5 to advance to the semi-finals in San Diego.
"Last weekend against LMU we did not even let them step onto the field," junior mid-fielder Bryan Moore said. "We need to stay together as a team this week and try to do the same against Cal."
The Laxcats will have to get by Cal's junior goalie Rob Warner, who is one of the best goalies in the WCLL.
"Basically, it takes better shot selection," Moore said. "We need to make sure we are not taking bad shots and shoot where the goalie is not."
Also, the Laxcats will need to be able to stop Cal's junior midfielders Chris and Kevin Moon, who both are members of the WCLL All-USLIA team.
"The key is for our (midfielders) to control the ball and not let their (midfielders) run all over us," Moore said. "If we can play them like we did last year we should be able to handle them."
The Laxcats feel they are ready for the next step.
"The true test will be Cal then I think we will be unstoppable," Wilkens said. "If everyone can play with a 100 percent desire to win and a refuse-to-lose attitude we should have a successful weekend."
Heading to San Diego, eight Laxcats found out yesterday they were selected for the 2000 All-Star team.
Sophomore attacks Matt Martini and Eric Renner, senior mid-fielder Jevon Lake, Wilkens, Moore, senior defenseman Laurence Bass, junior defenseman Tom Christian and senior defenseman Jeff Cady all made the team.
The game will be played tomorrow night in San Diego between the North division and the South division.
Also, Wilkens and Cady made the WCLL All-USLIA team.