Natalie Portman shimmers in delightful new comedy-drama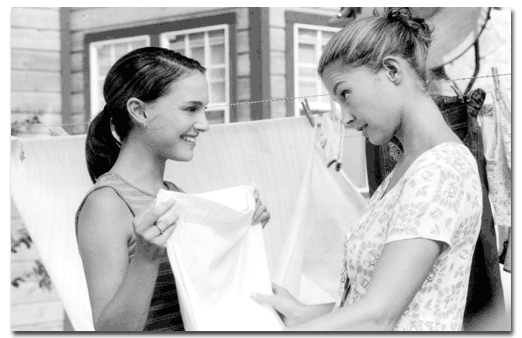 Arizona Daily Wildcat
Photo courtesy of Twentieth Century Fox Natalie Portman and Ashley Judd star in "Where the Heart Is," a romantic comedy about the trials and tribulations surrounding love and relationships. The movie opens tonight.
"Where the Heart Is" opens tonight
Every once in a while, an actor captures a part so perfectly that their character seems to transcend through their fictional movie-screen world, and into real life.
Such is the case with the new film "Where the Heart Is." In the drama, Natalie Portman ("Star Wars I: The Phantom Menace") takes on the central part of Novalee Nation, the first time the actress has occupied the starring role of a film.
Indeed, Portman performs her role so well that if one did not already know the film was adapted from Billie Letts' best-selling novel, one could easily assume the emotionally crafted Novalee character was written specifically for the young actress.
Portman brings to life the emotional credibility and quirky originality that is her character so well that it is difficult to imagine anyone else handling the part of Novalee Nation .
However, Portman's top notch performance is only one aspect of director Matt Williams's heartwarming look at a girl's rise to adulthood deep in the heart of the south.
Williams, the co-creator of television's "Home Improvement" and "Roseanne," brings to life a moving tale of love and maturity that has all the elements that made his TV programs so well received. The movie, like the TV shows, tells a strong dramatic story in a lighthearted, funny, and emotional fashion.
At the beginning of the film, Nation is abandoned at a Sequoyah, Okla., Wal-Mart by her "white-trashy boyfriend," played by Dylan Bruno ("Saving Private Ryan"). To complicate matters, she is only 17, pregnant and has only a few dollars to her name.
From here, the story follows Nation's journey to find love and self-identity, a universal plight many teenagers experience growing up.
As the movie progresses, Nation encounters a number of strong supporting female characters that, for all their screen credits and years of acting experience, never once upstage Portman.
Stockard Channing ("Grease") appears as one of these fascinating supporting characters, playing Nation's surrogate mother of sorts, Sister Husband.
Here, Channing is exceptionally convincing as an aging Southern Dixie with a habit of "fornicating" on her kitchen table - which makes for some humorous discussion between Nation and Husband.
But these supporting women serve as mere distractions for the main story line of this picture - a blossoming romance between Portman and the town's librarian, Forneu Hull, played by James Frain ("Reindeer Games"), who, behind his gruff exterior, hides a caring and soft persona.
Unfortunately for Frain, Nation must decide for herself whether or not he is truly honest and caring or if he is just like the other men she has encountered in her life.
Indeed, the film constantly shows men to be jerks, scum, and perverts, often out looking for one thing only - sex. And so the lone task of redeeming men everywhere falls to Frain.
Therein lies the real substance of this movie, whether or not men can rise above their self-absorbed lives and take on a greater responsibility.
In the end, "Where the Heart Is," rises above the simple classification of "chick flick," as a superbly emotional and finely crafted picture that can appeal to members of both sexes with it's universal themes and charming look.