Gallagher Theatre manager to retire in June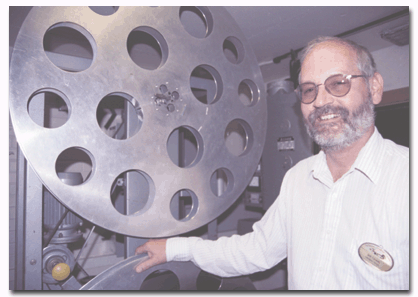 Sarah Brown
Arizona Daily Wildcat
Bill Fannin stands before the film reel of "Being John Malkovich" in Social Sciences last Thursday. Fannin has decided, after twenty eight years, to leave his position of management of the UA film series.
Fannin spent 28 years working bringing films to campus
For 28 years, Bill Fannin took the students of the University of Arizona out to the movies.
But last semester, the storied Gallagher Theatre came to an end, and on June 30, Fannin, long time manager of the film series, will also bid farewell to the UA.
"My batteries are drained, I have not really had much time off in the past 28 years, and there are things I want to do," Fannin said.
Fannin won't be gone for long however - he will be taking anywhere from six months to a year off to vacation and work on personal projects, and then will return as a volunteer technical advisor for the University Activities Board films committee.
"If they will need my assistance, I will definitely be around to help," Fannin said. "This way, I get to pick where I want to work without the day to day grind of doing absolutely everything."
"I really enjoy spending time with the students, they are smart and funny and as I grow older, they have become my favorite part of the job," he said.
Fannin has also made an impression on the students he has worked with throughout the years.
"Bill is one of the only people I have ever met who will be young at heart forever," said biology senior Ted Simpao.
Simpao worked closely with Fannin for the past two years while he was co-directing Comedy Corner.
"His energy and commitment has helped a countless amount of students over the years, and we could not have done it without him," Simpao said.
Fannin began his UAB career when he was a student at the UA in 1971, when he joined the films committee.
His first job at Gallagher Theatre came as an usher in 1972.
He then went on to become operations manager before he was made a full-time staff manager in 1983.
"I loved working with the movies, so they created a new special 'movie coordinator' position for me," Fannin said.
Media arts junior Patrick Boyle said he has known Fannin since his freshman year, when he became involved with the film committee.
"He has always been so nice to me, and he was accessible to me when I needed his advice - I could not say one single bad thing about him," Boyle said.
Fannin said one of the reasons he decided on retiring this year was because of last semester's demolition of Gallagher Theatre.
"I have really high hopes for the theater that will be returning in 2002," Fannin said.
Fannin said he hopes the new theater will keep the Gallagher name and will screen movies on a digital projection - a new advance in media technology that will be a cross between film and video.
Fannin said he will most miss the adrenaline rush from the days when the job was extremely hectic from trying to plan a bunch of events.
"I have a real sense of family when I am in the Student Union, and I have made many close friends," Fannin said.
Melinda Griffith, UA senior coordinator of campus activities, said Fannin is very dedicated to the students and always has strong interest in them.
"We will miss Bill, but we wish him the best of luck," Griffith said.