Wildcats blank Oregon in 2-game series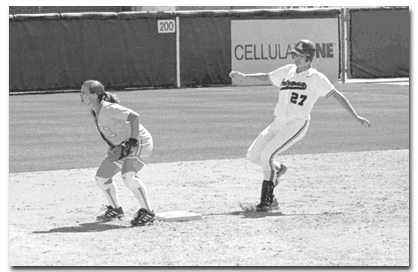 Eric M. Jukelevics
Arizona Daily Wildcat
Arizona sophomore first baseman/pitcher Jennie Finch comes to a stop at second base during a game against Oregon State earlier in the year. Finch and junior pitcher Becky Lemke held the Oregon Ducks to only four hits in two games during the weekend.
Wh Friday's game with OSU rained out
en preparing to host the UA softball team last weekend, Oregon head coach Rick Gamez's biggest concern was slowing down the high powered Wildcat offense.
Gamez might have made an error in over-looking the pitching staff and defense, though, as it was the No. 2 Arizona pitching duo of junior Becky Lemke and sophomore Jennie Finch that dominated the Ducks, not the offense.
Lemke and Finch were also helped by the Pacific 10 Conference's best defensive team, as the Wildcats were error free during the weekend.
The two UA pitchers allowed a total of four hits in two games against No. 17 Oregon, including a one-hit gem by Lemke, yesterday in the Wildcats 1-0 victory.
Lemke struck out 12 Oregon batters and allowed just one hit - a double to Ducks' catcher Missy Coe.
Despite her strong performance, Lemke had problems with her control as she walked four Oregon batters and hit one batter.
The game was a classic pitchers duel, however, as Ducks' sophomore pitcher Connie McMurren matched Lemke pitch for pitch.
McMurren's lone mistake came in the third inning when Arizona junior shortstop Allison Andrade led off the inning with her seventh home run of the year - the only run of the game. Andrade was 2 for 5 in the game.
UA (47-7 overall, 10-4 Pac-10) managed just five hits off McMurren, who struck out eight while issuing three walks. The loss evened McMurren's season record to 14-14.
The Ducks (33-20, 9-5) had a chance to tie the game or perhaps steal the victory in the bottom of the seventh inning when they loaded the bases.
Lemke walked Coe, then threw back-to-back strikeouts before hitting center fielder Jill Robinson and walking left fielder Andrea Vidlund to fill the bases with Ducks.
Lemke worked her way out of trouble, though, as she struck out pinch hitter Kelly Planche, ending the threat and capturing the game.
"We just couldn't muster a hit when we needed one again today," Gamez stated in a press release. "We are playing well and all our games with them have been especially close. I think we are where we need to be but we just had tough luck today.
"Connie (McMurren) threw an excellent game and gave us a chance to win but our bats just were not lively this weekend against one of the best teams in the country."
Oregon left five runners on base during the game, while the Wildcats left eight.
With the win, Lemke improved her record to 25-5 this season.
Finch was equally as impressive Saturday, though, as she tossed a three-hitter in the 2-0 Arizona win.
Finch, who struck out 10 and improved her record to 22-2, had some control problems as she walked six batters.
The Wildcats put their first run on the scoreboard in the third inning as Mascarenas hit an RBI double to drive in junior left fielder Lauren Bauer.
Giordano and senior second baseman Katie Swan were instrumental in driving in the first run as each laid down sacrifice bunts to move Bauer from first base to third.
The final UA run came when Andrade hit an RBI single to drive in senior right fielder Chrissy Gil.
Gil was also successful on the bases as she stole two, giving her 14 stolen bases for the season.
"We can't beat the No. 2 team in the country by getting just two hits," Gamez stated in a press release. "They are too good of a team to not take advantage of scoring opportunities and we didn't do that today.
"They did a good job of sacrificing to get runners in scoring position and they got timely hits when they needed it."
Oregon's lack of hitting was shown by leaving eight runners on base, while UA left only four.
Friday's game against No. 12 Oregon State (34-14-1, 4-8) was rained out and will only be made up if it has bearing on the Pac-10 champion or an NCAA qualifier.