Laxcats drop 2 playoff games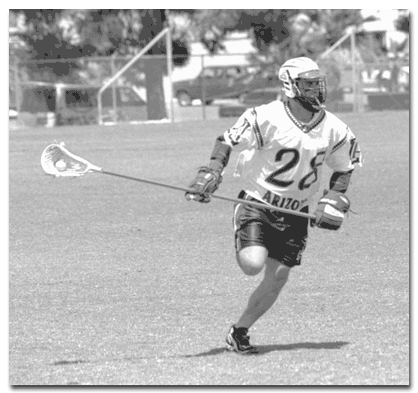 Matt Heistand
Arizona Daily Wildcat
Laxcat senior defenseman Laurance Bass runs looks up field earlier in the season at Wildcat Field. The Laxcats were defeated twice during weekend in the WCLL semifinals and consolation game.
Th At-large bid to nationals unlikely after losses to Cal, UCSB
e Arizona Laxcats lost two WCLL playoff games during the weekend and now must wait to see if they receive an at-large bid to the national championships May 10-13 in St. Louis.
On Friday night, No. 10 Arizona traveled to the University of California at San Diego to take on California, the second-ranked team in the U.S. Lacrosse Intercollegiate Association.
A UA win would have all but locked up a bid at nationals, but Arizona fell to the Golden Bears, 11-7. California went on to win the West Coast Lacrosse League Division 'A' title yesterday with a 12-10 win against top-ranked Sonoma State University.
The Laxcats had a chance to improve their post-season chances Saturday against the University of California at Santa Barbara. However, Arizona was defeated by the No. 13 Gauchos, 9-8.
Arizona (11-7) defeated UCSB 9-6 earlier this season in Tucson.
Head coach Mickey-Miles Felton and the rest of the Laxcats will learn this week if they receive one of the four at-large bids, but an 0-2 weekend means their season is likely finished.
The Laxcats were traveling back to Tucson at press time and could not be reached for comment.