Former drug addict brings 'Vision Warrior' to UA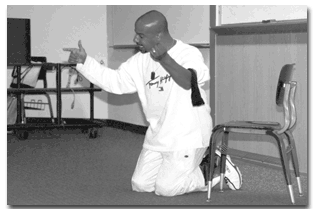 Arizona Daily Wildcat
Actor Scot Robinson showcases life of recovery to Tucson
Scot Anthony Robinson's drug addictions and homelessness were sources of inspiration for his dramatic lecture-presentation, "Vision Warrior."
The University of Arizona was the latest school for Robinson to spread his message about drug and alcohol prevention to today's youth. A nearly packed Harvill room 150 saw his presentation, which addressed life issues, including self-esteem, sex and peer pressure.
"My life was essentially spared," Robinson, 38, said. "I conceived this piece in rehabilitation, in the hospital's therapeutic community."
"Vision Warrior" has toured high schools and universities across the country, in addition to correctional facilities and Off-Broadway theaters.
Robinson's inspirational show was featured in newspapers like the New York Times and the television shows, "48 Hours" and "ABC-NY News." He is also awaiting a national commercial as a spokesman for Partnership For A Drug-Free America.
He wears many hats - speaking as a youth ally, working as an actor and serving the role of mentor for many kids he met along his tour.
"Young people sometimes believe that people don't care," Robinson said. "But I love them. Love means truth and not retreating in the face of adversity."
Audience response has been overwhelming, he said, partially due to personal interaction with those who attend the presentation. Robinson listens to issues and concerns that affect young people and tries to address every comment and question thrown at him.
He said he is similar to a jazz musician - his presentation has structure, but he also improvises as he feeds on the audience.
He makes his "1-800" number known to those audience members who would privately like to contact him and get personal attention.
"Vision Warrior" was sponsored by the Africana Studies program at the UA, as a project of Assistant Professor Kendahl Radcliffe.
Radcliffe knew Robinson for two years and invited him to share his experiences with students in the Tucson community.
"He speaks the language of young people," Radcliffe said. "His performance is really powerful and engaging. Students are learning from the perspective of experience, rather than the conventional routes."
Robinson said everyone has some kind of experience with drugs, either first-hand or through friends and family. As he confronts his own addictions, the audience learns how substance abuses affects the entire community, not just individuals.
"I believe kids open up to me because I open up to them," he said. "People look toward me for advice, for an ear, for guidance."
Robinson said he is honored to serve as a mentor for so many youths, but can get exhausted traveling from city to city.
"The word 'warrior' in the title exists because touring is brutal," he said. "It's hard to filter on a constant basis. Life is a continual learning process, it's all about making mistakes."
Robinson was inspired by a quote from Helen Keller as he thought of a name for his lecture-presentation.
"Helen was asked which was worse, deafness or blindness," he said. "She responded, 'a person with sight and no vision.' Vision is about attaining self-knowledge and turning it towards the betterment of your society."
The actor/mentor said he is proud of what he does and knows he is making an impact in the lives of students across the country. Robinson can be reached at www.visionwarrior.com or contact the UA Africana Studies department at 621-5665.