Friends, colleagues remember UA doctoral student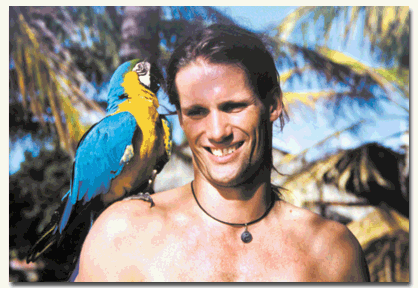 Arizona Daily Wildcat
photo courtsey of: Tariq Riaz Ray Klimmek, a University of Arizona geological engineering doctoral student, stands with a parrot on his shoulder during a trip last summer in Venezuela. Klimmek, 28 years-old, died Saturday after a skydiving accident in Marana.
Ray Klimmek died Saturday while sky diving
UA friends and family will remember Ray Klimmek's ever-present smile in a memorial service Friday for the UA geological engineering doctoral student who died Saturday after a sky diving accident in Marana.
Karl Glass, associate professor in the mining and geological engineering department, said Klimmek was researching lahars, which is the study of debris flow after a volcanic eruption.
"He's one of these guys who has a passion for living," said Glass, who was also Klimmek's adviser. "He crammed in more living per hour than anyone I ever knew."
Glass said that Klimmek got along with everybody.
"Everybody loved Ray (Klimmek)," Glass said. "If you would have known him, you would have loved him too."
Saturday's sky dive was the 178th jump for Ray Klimmek, a University of Arizona student, who was originally from Leipzig, Germany.
Klimmek broke both his ankles and legs, shattered his pelvis and suffered severe head injuries after a jump at the Marana Skydiving Center, said Katy Heiden, the public information officer for Northwest Fire District.
Northwest Fire District paramedics responded about 1 p.m. and found Klimmek breathing slowly, Heiden said.
He was airlifted to University Medical Center, where he died at 7:31 p.m., said Kim Hilty, a clinical supervisor at the hospital. He was 28.
Tony Frost, the Marana Skydiving Center owner, said Klimmek's parachute functioned during the jump, but he thinks Klimmek may have miscalculated a turn right before he landed.
"He made a sharp turn close to the ground," Frost said. "There wasn't anything wrong with his parachute."
Frost said Klimmek would often jump at his center on the weekends with his friends or when the center offered unlimited jumps for $99.
Frost said the Marana Skydiving Center holds between 40,000 and 60,000 jumps a year. Only one person before has died after jumping at the center, which occurred in 1995 or 1996 because the jumper mishandled his parachute.
"He was a nice guy - everybody liked him," Frost said of Klimmek. "We're sorry to see it happen. Anytime it happens is too often."
Klimmek's mother, Sabine Klimmek, said through a translator yesterday that her son's philosophy was that everybody was a good person.
"The gap he left can never be closed by anybody or anything else," Sabine Klimmek said.
She said he liked Arizona's open land because it appealed to his sense of freedom and desire for endless boundaries.
"For him, America was Tucson - his department, professors and research - this was America to him," Sabine Klimmek said.
Klimmek had an Earth System Science fellowship from NASA and was also a teaching assistant for the UA's Natural Sciences 101 class.
"The class, since Ray was a TA, has changed 200 percent," said Daniel Galloway, who was a preceptor in Klimmek's class for three semesters. "Without Ray's help, I don't think we would be where we are now."
Galloway said Klimmek wanted his students to be satisfied with their work, and students knew they could approach him for more help.
"He was always the type of guy you'd think was really cool and you'd want to hang out with," said Galloway, a molecular and cellular biology sophomore. "If I was having a bad day, he would cheer me up - you can't find too many people who can do that for you."
He said he would remember Klimmek by his smile, laugh and approach to life.
"He just wanted to make other people happy," he said. "As soon as he sees you, he smiles."
Paul Lever, head of the mining and geological engineering department, said Klimmek knew everyone in his department.
"It is going to be a great loss for the department," he said. "Ray was a leader among our graduate student population here."
Lever said Klimmek "lit up" the room when he walked in.
Mary Poulton, associate professor of mining and engineering, said Klimmek was "integral" in teaching her mining and engineering class.
"He was highly sociable, and he loved the contact with people and being able to solve problems," Poulton said.
Alyson Johnson, Klimmek's girlfriend, said her boyfriend often said he was very lucky in life.
"He lived his life in gratitude," Johnson said. "He never asked for anything."
Tariq Riaz, Klimmek's roommate for two and a half years, said Klimmek had "hundreds and hundreds" of friends.
"He would do anything for a friend," said Riaz, a management information systems senior. "He would just totally go out of his way."
Klimmek enjoyed extreme sports such as scuba diving, rock climbing, snow boarding and motorcycling.
"He used to save up everything to travel the world," said Sobia Kashmiri, who has been friends with Klimmek for two years and is also a UA alumna. "He has lived life to the fullest extent."
Bryan Zeitler, who was a teaching assistant for NATS 101 with Klimmek, said the German native was always patient with students during computer lab sessions, even though he had to deal with hundreds of students who sometimes asked the same questions.
"Ray always seemed to be genuinely nice to everyone," Zeitler said. "I think we could all learn something from that."
Klimmek held a master of science degree from the University of Leipzig in Germany and a bachelor of science degree from the Technical University of Chemnitz in Germany.
A memorial service will be held Friday at 4 p.m. for Klimmek at the Newman Center, 1615 E. Second St.
Klimmek is survived by his mother, Sabine Klimmek, and his father, Juergen Klimmek, both of Leipzig, Germany; and his brother Jan Klimmek of Plauen, Germany.