Head of the class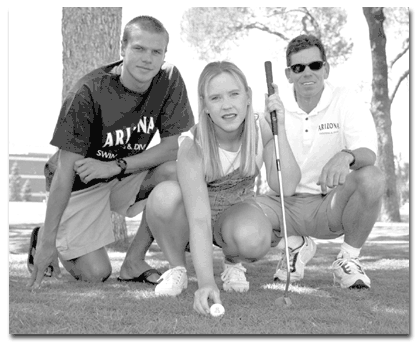 Eric M. Jukelevics
Arizona Daily Wildcat
Senior swimmer Ryk Neethling, senior golfer Jenna Daniels and UA swimming and diving head coach Frank Busch pose on the McKale lawn yesterday. Neethling, Daniels and Busch were honored with the Arizona Daily Wildcat's male athlete of the year, female athlete of the year and coach of the year, respectively
Daniels, Neethling, Busch awarded by readers, Wildcat staff for
At a university with so many teams and individuals achieving success at the national level, Jenna Daniels, Ryk Neethling and Frank Busch are at the top of their class.
Last week, the three were voted by Arizona Daily Wildcat's readers and the sports desk staff as the women's athlete, men's athlete, and coach of the year.
For Daniels and Neethling, the two have a lot more in common than just being senior athletes. Throughout their final season at UA, both were at the top of the mountain in their respective sports - golf for Daniels and swimming for Neethling - and did a remarkable job of holding their ground.
Besides thriving individually, Daniels and Neethling also helped take their programs to new levels.
"I knew this was my last collegiate golf season, and I knew this was a do-or-die year, knowing if I did well I could play professionally," Daniels said.
If doing "well" means winning two tournaments, finishing second in two others, and placing in the top eight in all nine competitions she entered this season, then Daniels is well on her way to the LPGA.
Realizing the opportunity before her, Daniels went into the season wanting to find out how her ability compared to the professional players.
"I wasn't going to go at it half way, because I wanted to see where I stood," said, the top collegiate player in the country.
Perhaps no tournament better exemplified her dedication to her sport - and her team - than last week's Pacific-10 Conference Championship in Eugene, Ore. Following the first two rounds of play, Daniels had carded two disappointing rounds of 77 and 74, and was tied for 15th place. The night before the final round, Daniels, instead of going out with her teammates, hit the practice range for three hours and worked on her game.
The work paid off, as she shot a tournament-low 68 in the final round to finish in second place, and the top-ranked Wildcats won the team title. Daniels was named to the All Pac-10 First Team for the third straight season.
But Daniels, who credits much of her success to her teammates and head coach Todd McCorkle, is after a bigger prize this year.
"I would give every single one of my titles, every single one of my awards to win that championship," she said about the upcoming NCAA Championship.
Neethling was in a situation similar to Daniels this year. Entering the men's swimming season, Neethling had won seven individual NCAA titles - the 200- and 500-meter freestyle events twice each, and the 1,650m three times.
From day one, he had the bull's-eye on his back.
"It makes it a little bit harder, but I like that. If you want to be the best, you have to be prepared to face that kind of stuff," he said.
Neethling capped off his decorated career at UA by winning two more titles in the 200m and 400m freestyle, giving him nine for his career -the third most in NCAA history.
But it's the 1,500m race he lost at the NCAA Championships in Minneapolis in March that has stuck with him.
"I'm kind of embarrassed with how bad I looked," he said.
Neethling, who had won the mile at his previous three NCAA Championship meets, said he didn't know it at the time, but now realizes he was worn out from a busy three-day weekend, during which he competed in nine events.
"I was exhausted."
Although disappointing, Neethling's third-place finish in the 1,650m will not diminish what he's done at Arizona. When he was selected as the Pac-10 Men's Swimmer of the Year in March, Neethling became the second swimmer in conference history to win the honor all four seasons.
"Too many good things happened here to be disappointed," he said.
This season the men's team placed third in the country. Much of the success can be attributed to Neethling's leadership both in and out of the pool.
"Ryk has a very unique combination. He's a wonderful and a tenacious competitor," said Busch, the men's and women's swimming and diving head coach.
Now that the sun has set on Neethling's career at UA, Busch said his star swimmer has established himself as "arguably one of the greatest athletes in the University of Arizona's history.
"I don't know who's the best athlete to go here, but I know there's never been a guy better than Ryk Neethling.
While the men's team had a strong showing at the NCAA Championships, the women's squad out-did them, finishing second with Busch's guidance. Both were the best finishes in school history.
For his hard work, which included a women's Pac-10 title, Busch was named the Pac-10 Coach of the Year for both the men's and women's teams.
Busch said this was a honor not only for his teams, but also the UA athletic department, which is among the best in the country.
"All of the people that are part of the present and part of past can be proud," he said.
One reason Arizona has become a national power in the pool is the way Busch approaches the sport. He gets his athletes excited and tries to make them self-motivated, but at the same time he doesn't complicate things.
"We try to keep swimming and diving at a real simple level, because it's not rocket science, and we try to keep it fun," said Busch, who has been at the UA for 11 years.
As for next season, Busch said both teams should challenge for NCAA Championships, barring injuries or other unexpected mishaps.
"You can't really predict anything," he said. "I think we'll be contenders."
The off-season preparation for next season has already begun for both swimming and diving teams, as the swimmers have been reporting at 6 a.m. for morning practices.
For Daniels and Neethling, their collegiate careers might be winding down, but their legacies are just getting started. Daniels said she will try to play on the LPGA tour this summer as an amateur, and try to earn her playing card in the fall at LPGA qualifying school. She will graduate in December with a degree in education.
Neethling, meanwhile, has already qualified for the 2000 Summer Olympics for his native country, South Africa. There, he will have the opportunity to exact revenge on Michigan's Chris Thompson and USC's Eric Vendt, the two swimmers who beat him in the mile swim this year.
He plans on coming back to UA next year, where he will earn his degree in sports psychology either in December or next May.