UA clarinetist to perform in Rome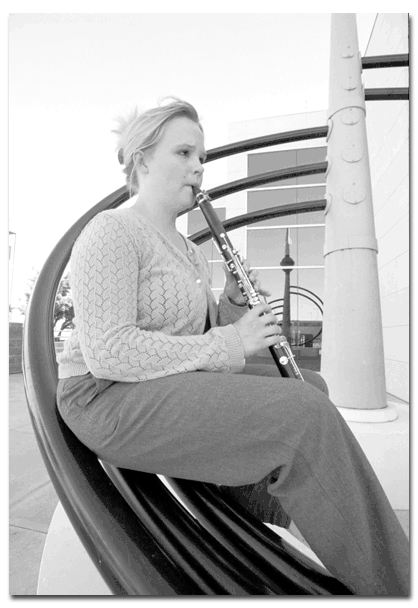 Aaron Farnsworth
Arizona Daily Wildcat
Music and clarinet performance sophomore No'l Robblee practices outside the music building yesterday. Robblee will perform with the Rome Festival Orchestra and Opera this summer in Italy for a month-long tour.
Music department sends student to international music festival
After playing the clarinet for more than a decade, a UA student's years of studying will bring her to Italy for a month-long tour with the Rome Festival Orchestra and Opera.
"I've always wanted to do music," said No'l Robblee, a clarinetist at the University of Arizona. "It's been something inside of me."
The 20-year-old music sophomore was chosen at a competitive national audition to perform at the festival this summer.
"I'm a little nervous about the whole thing," Robblee said. "I'm anxious but I'm nervous now. I really don't know what to expect yet."
Robblee is also currently a member of the UA's Wind Ensemble, Woodwind Quintet Chamber Ensemble and the Pride of Arizona marching band. She has been playing the clarinet for 10 years and performed with the Phoenix Youth Orchestra in high school.
Her instructor said Robblee's big break came with her acceptance to the festival in Rome.
"This is a great opportunity for her to study music in Rome. She's very self-motivated and has improved a great deal," said Jerry Kirkbride, UA music professor and Robblee's personal tutor. "She has an incredible work ethic and desire to be successful."
Robblee said she was simply required to fill out a form and send an audition tape to the festival to be considered for performance. When she was accepted, Robblee was given a partial scholarship from the festival and a grant from the UA music department.
"Ms. Robblee will uphold the high standard of performing that Italian music offers, tourists and critics have come to expect from the Rome Festival," said Maestro Fritz Marraffi, musical director of the festival.
Because she has played the clarinet for so long, Robblee has grown to love the instrument.
"I practice two hours a day - at least that's my goal. I like the sound of the clarinet as a whole," she said. "It has depth and range. I don't think any other woodwind instruments have its sounds."
Robblee, along with singers and instrumentalists from nine other countries, will perform at a concert site, which is only about 900 meters from the world famous Roman Coliseum.
While in Rome, she will also gain the opportunity to study with several European master artist-teachers as part of the Rome Festival's Summer Institute, sponsored by the Rome Festival Orchestra Ltd.
The festival will host Robblee in the historical district of Rome while the festival will travel throughout the area.
"When I get there, we will rehearse first and then practice before we perform throughout Rome," she said.
In the future, Robblee hopes to graduate and continue on to graduate school with her degree in musical and clarinet performance.