Graduate students bring workload concerns to administrative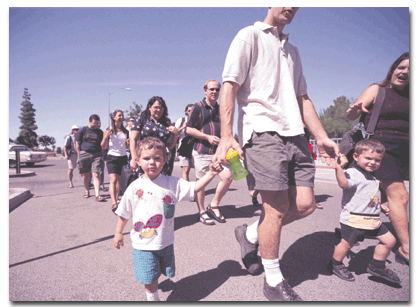 Aaron Farnsworth
Arizona Daily Wildcat
Rory and Isaac Macleod accompany their father, English TA Alex Macleod, to a meeting with the dean of the graduate college, Gary Pivo. The graduate students hope to attain a concrete timetable for the completion of their previously submitted demands.
UA leaders still unsure of action
Seeking improvements in labor conditions, a group of UA English graduate students brought their concerns about workload and pay to Graduate College Dean Gary Pivo yesterday.
Representatives from the English Graduate Union, a group comprised of graduate students in the English department, and several supporters walked in a group of about 25 from their offices in the Center for Computing and Information Technology building to Pivo's office in the Administration building.
M.J. Braun, an English graduate student, said graduate student concerns are not always given thorough administrative attention - even when enough information is available for analysis - and that yesterday's meeting with Pivo was urgent.
"What commonly happens with the administration is they say, 'We're looking into this,' or 'We are studying this further,' 'We need more information,'" she said.
In 1998, a University of Arizona presidential subcommittee on maintaining and improving the quality of graduate education determined that graduate students would most benefit from health insurance, a registration fee waiver, a pay raise and an adjustment in teaching and research workloads.
Currently, only basic health coverage is offered to graduate students employed by the UA, while the other concerns recognized as most outstanding have not yet seen major reform.
Students who met with Pivo said the best way to improve graduate student work conditions is to allot about $5 million for the hiring of more teaching assistants, which would reduce individual class sizes and workloads.
A proposal presented by the students requested that results be seen as soon as next fall, with the elimination of in-state registration fees and the reduction of classes taught to one per semester - especially in the critical first and final years.
English graduate student Cathy Chaput said the group was more interested in gauging Pivo's interest yesterday than expecting immediate results.
"We had no expectation that this meeting would result in any allocation of funds or anything like that," she said.
However, Chaput noted that Pivo committed himself to working with the College of Humanities - where the English department is based - as well as the business college in resolving issues of workload and compensation.
Although members of the EGU said they have long been active in graduate student issues, yesterday's conference marked the official forging of a working relationship with Pivo.
Danika Brown, an English graduate student, said she was pleased that an exchange of ideas is now taking place, but she is reticent to believe all the students' concerns will actually be resolved.
"We're still not entirely convinced that action will take place, and we'll be more inclined to say we're satisfied when action has taken place," she said.
Pivo said yesterday's conference was productive, and the people assembled were able to identify the problem with overburdened teaching assistants as the most important area needing attention - although Pivo, Chaput and Brown agreed that significant workload problems exist in departments across the UA, not just the English department.
"Everybody seemed to agree that we have a real problem with workloads in the humanities and perhaps most acute in the English department and the languages," he said.
Pivo said all the concerns raised by the students were valid, and he is optimistic about working with the students in the future. He said the EGU students have been invited to participate in the drafting of a budget proposal that would set aside more money for their issues.
Pivo is aware of the discrepancy between workload and pay, saying many graduate assistants work about one and a half times more than what they are paid for.
However, he is still unsure as to what steps need to be taken to alleviate this.
"I'm not sure what the best strategy is yet. We need to look at alternatives and discuss them," Pivo said. "For example, should we actually reduce the number of required courses for undergraduates that require TAs, or hire graders, or should we hire more TAs?"
Chaput and Brown agreed that Pivo will not be their only contact when resolving graduate student concerns. Reaching out to other student groups and state universities, the general community and other levels of administration would also be necessary to achieve reform, they said.