On to Sydney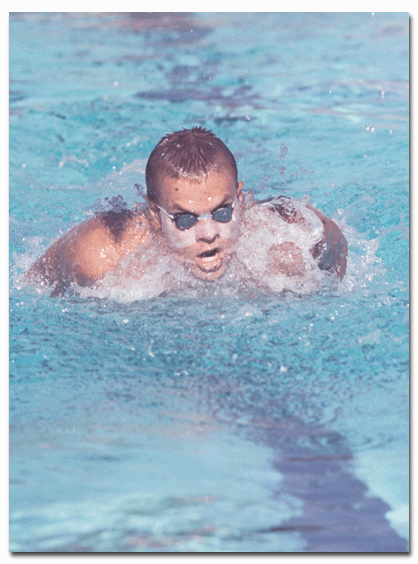 Matt Heistand
Arizona Daily Wildcat
Senior Ryk Neethling works out yesterday at Hillenbrand Aquatic Center. Along with several of his teammates who will be competing for different countries, Neethling will represent his native South Africa this summer in Sydney at the 2000 Olympics.
UA swimming teams a have a chance to be well represented
The Arizona men's and women's swimming and diving teams are coming off their best seasons in school history, and they could get better as a number of athletes could be in Sydney, Australia this summer for the 2000 Olympics.
Four swimmers have already qualified, and six more are hopeful that they will be able to represent their country at the Games.
"Something like this is great for the university as a whole as well as for our swimming program," head coach Frank Busch said.
Each country has 26 openings split among all of the different swimming events, which means third-place qualifiers are not ensured a spot on the team. The only way to earn a guaranteed spot on a team is by winning an individual event.
The UA's swimming program, though, is filled with numerous athletes who are in that elite group of Olympic hopefuls.
All season the UA men's team was led by the South African duo of senior Ryk Neethling and sophomore Roland Schoeman.
Their success is about to reach new levels as they both qualified for the South African team. Neethling is going to be swimming in the 100- , 200- , 400- and 1500-meter freestyle, and his counterpart Schoeman is swimming in the 50 and 100 as well.
"My goal is to win as many gold medals as possible," Neethling said. "Every time, I swim to win. I am not going to Sydney to get second."
Schoeman has an advantage that not many other athletes have because he has been able to learn how to swim in the big meets from Neethling, who is considered one of the best collegiate swimmers in the history of the sport.
"Ryk got me to Arizona," Schoeman said. "He emphasized to me that it is important to stay relaxed and focused."
Besides Neethling and Schoeman, sophomore Peter Johnson and sophomore Maria Papadopoulou have also qualified for Guam and Cyprus, respectively.
Papadopoulou qualified for Cyprus national team in the 100 butterfly and she is attempting to qualify for the 200 in July. Papadopoulou left her homeland to come to the UA for one reason - to swim with and against the best swimmers in the world. All of her work has finally paid off.
"This is a dream come true for me," Papadopoulou said. "I really want to make the team in both the 100 and 200 because I have trained so hard in both events."
Even though these athletes already qualified for the Olympics, the American trials are not until August.
Arizona's two freshman phenoms, Beth Botsford and Amanda Beard , who both competed in the 1996 Olympics, have the best chance of qualifying. Botsford is going to attempt to qualify in the 100 and 200 backstroke and the 100 butterfly.
"I am just going to train hard and go to trials and just have fun," Botsford said.
Beard will try to qualify in the 100 and 200 backstroke. Beard and Botsford both feel their previous experience is definitely going to help them stay focused and concentrate on the task at hand, which is taking home a gold medal.
"I just want to race hard and give it my all," Beard said.
Other women that have a chance to qualify are sophomore Sarah Tolar and senior Denali Knapp.
Qualifying for the Olympics would be a perfect end to Knapp's Arizona career, as she is recognized as one of the most accomplished women athletes ever to compete for the UA.
"It would be a dream come true," Knapp said. "Ever since I was 10, I have wanted to make the Olympics. If I make the team, I will take great pride in representing my country."
Junior Jay Schryver and seniors Matt Allen and Oscar la Fleur also are attempting to qualify.
All of these athletes are looking to show the world what they can do, but all of them feel lucky to have so many UA teammates there to support them because the Olympics are more for the individual, rather than the team.
"It is going to be great having so many of my teammates at the Olympics because it will help me take my mind off of the pressure," Neethling said.
"It is going to be nice having the added support which should hopefully help all of us swim better."