UA law student remembered as a 'wonderful person'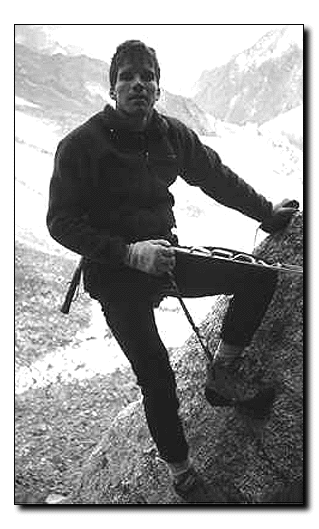 Arizona Daily Wildcat
Photo Courtesy of Rocks and Ropes gym Jim Boyer, a former UA law school student, was an freelance writer and avid outdoor athlete. Boyer died as a result of a rock-climbing accident Thursday.
In his 35 years, there wasn't a lot that Jim Boyer hadn't experienced.
After earning his master's degree in journalism from the University of Arizona in 1993, Boyer went on to become a well-known freelance writer. Arizona Highways and the Tucson Weekly were two of the many publications that printed his feature stories.
Boyer also had a love for rock climbing and he was instrumental in creating the Rocks and Ropes indoor climbing gym, 330 S. Toole Ave.
While rock-climbing - doing what he loved - Boyer died Thursday afternoon.
Boyer died after falling 180 feet from the summit of "Swept Away," a difficult ridge in the Reef of Rock area near Mount Lemmon, said Doug Myrvold, a deputy sheriff with the Pima County Sheriff's Department.
According to Myrvold, Boyer had just finished his climb when he began the procedure to be lowered by his climbing partner. The anchor he clipped into had old nylon webbing which apparently prevented it from being adequately secured into the rocky mountain.
Boyer was pronounced dead on the scene.
Chad McWhinnie, manager of Rocks and Ropes and a friend of Boyer's since 1994, said rock climbers often use old equipment that is already wedged into the rocks.
"You come to expect that the anchors will at least hold you for one time," said McWhinnie, adding that "Swept Away" is a remote location where more experienced climbers go.
"It wasn't dumb - it was a mistake," he said.
McWhinnie said Boyer was one of the most experienced rock climbers in the city.
Boyer's love for outdoor adventure led him on several career paths before he enrolled in the James E. Rogers College of Law last fall. In his 20s, Boyer spent five summers on an Alaskan commercial fishing boat.
Boyer accomplished many other outdoor feats, such as climbing Mount McKinley and scuba-diving with sharks.
Boyer's love for freelance writing brought him to the Discovery Channel Online, where he spent five weeks in the Atlantic Ocean writing about a group's effort to raise a portion of the Titanic.
"He pretty much did it all," McWhinnie said.
McWhinnie added Boyer was a "well-rounded" person and a great friend.
"He listened really well, he was a great person, he was really smart - just a fun person to be around," he said. "He's just a super guy."
UA law school officials and professors are also remembering Boyer as a man who impacted nearly every person he met.
Terry Holpert, assistant dean of the law college, said she met Boyer last fall when he enrolled in his first semester of law school.
"He was a wonderful person of extraordinary talent," Holpert said.
Law professor Roy Spece befriended Boyer last fall in his beginning constitutional law course when the two would exchange views about being "politically correct."
"He was very open and accepting of everybody, including those who weren't politically correct," Spece said.
Jean Braucher, a law professor, had Boyer in her contracts class for first-year students last fall. Braucher said he was "low-key and relaxed" in class and picked up the material very easily.
"He was a natural," she said.