Swing Kids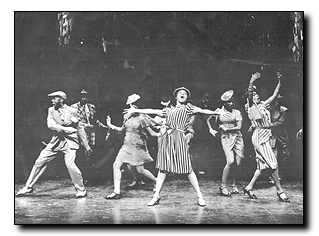 Arizona Daily Wildcat
Vy finds Harlem and the Cotton Club the kind of place where "the place is always jumpin' and the folks is always pretty" in the Arizona Theater Company's "Play On."
By Kevin Dicus
Arizona Daily Wildcat,
September 13, 1999
So what's a birthday without a party, after all? Ask Duke Ellington who, although having died in 1974, is celebrating his 100th this year in grand, grand style. It's impossible to forget just what a huge impact this man made in the music world, and during this centennial anniversary the entertainment industry is at pains to keep us aware of this. The music industry has re-released his albums and staged commemorative concerts, television has aired his biography, and the theater, most notably, has produced "Play On," a comedy musical review based on the life of this king of swing.
Now playing at the Arizona Theater Company, this play, based on Shakespeare's comedy "The Twelfth Night," is an absolute celebration of the Duke's talent. The story begins when Vy, a Mississippi country girl with dreams of becoming a songwriter, arrives in New York with the hopes that her uncle in Harlem can help her in achieving this goal. Her uncle, who has reinvented himself to be a smooth cat named "Jester" is convinced, as are they all, that in no way can a woman make it in the industry. Thus, their first stop is to the tailors to turn Vy into "Vy-man," a hip, decidedly male songwriter. Through his connections at The Cotton Club, Jester gets Vy-man in to play for Duke Ellington. Impressed by 'his' skill, Duke sends her to Lady Liv, the Diva at The Cotton Club, whom the Duke secretly loves. Through much flattery Lady Liv agrees to listen, but she pays more attention to this smooth talking Vy-man than to 'his' song. Indeed, the flattery has worked a bit too well and Lady Liv is smitten. To add a bit more complexity there is Rev, Lady Liv's manager who also has it bad for Lady Liv.
And through all this is the music, the wonderful, powerful songs of Duke Ellington. More than 20 of Ellington's finest are used in "Play On," such as hits like "Take the 'A' Train," "Don't Get Around Much Anymore," "It Don't Mean a Thing" and "Mood Indigo." And the treatment of these by the cast is brilliant. Each is so well-sung and realistic that it completely controls the audience. With songs like "Rocks in My Bed" and "It Don't Mean a Thing," it takes everything not to get up a dance in the aisles. Alas, you must be content with just your feet tapping uncontrollably to the beat. Others just get right into you, releasing a chill and bringing goose bumps up to the surface of your skin. "I Ain't Got Nothin' But the Blues," performed by Lady Liv is rife with so much tension that when she pauses during this song, letting the tension build, you can hear the motionless audience, holding their breath, waiting.
"Play On" takes place in the hip 1940's in Harlem where truly "it don't mean a thing if you ain't got that swing." The rhythm and motion of each individual is crucial to trumpet their hip style. Lines are delivered dripping with sensuality or as musically as a song. They don't walk as much as dance across the stage, and the dancing itself is so fluid, so energetic it's not to be believed. To see such classic swinging performed in these vibrant zoot-suits and sexy '40s mini-skirts is sheer joy. To watch Rev, who is as stiff as stucco, try to capture this style is classic comedy.
"Play On," transports you. It doesn't simply represent what was going on in that wonderful time, it becomes that wonderful time. The audience is watching the Harlem Renaissance of the 1940's and it is a glorious trip. The Duke was born April 29, so this has been a rather long birthday party, but if it means we get more perfection such as this, let's keep the good times rolling.
"Play On" is being performed at the Temple of Music and Art, 330 S. Scott Ave., until Oct. 2. Call 622-2823 for reservations.