Ground war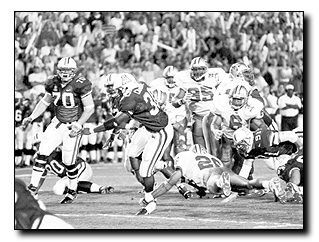 Matt Heistand
Arizona Daily Wildcat
Senior running back Trung Canidate avoids a shoe-string tackle by a Middle Tennessee State defender during the Wildcats 34-19 victory over the Blue Raiders Saturday night. Canidate rushed for 102 yards on 16 carries in just one half, because he sat out the second half due to the tendinitis in his knee flaring up.
The Arizona football team had a simple mission in Saturday night's home opener at Arizona Stadium against Middle Tennessee State.
It was to re-establish the run with a tough, physical game.
Mission accomplished.
No. 19 Arizona (2-1) took a 34-0 lead into the fourth quarter before the Wildcats' reserves surrendered 19 unanswered points to the Blue Raiders (0-2).
But a win is a win and the Wildcats were upbeat after the game.
"It feels good just getting a win, getting a solid game," senior running back Trung Canidate said. "I don't feel I played a great game. I put in a solid performance to help this team win."
Canidate who was held to only 86 yards in the Wildcats' first two games, pounded out 102 yards on 16 carries all in the first half. He racked up 57 of his yards in Arizona's first drive but he gave way to senior fullback Jim Wendler for the final yard of the drive.
Wendler's touchdown put Arizona up 7-0 and the Wildcats never looked back.
"Considering what the offensive line did tonight, all the yards attributed to the running game (belong) to the offensive line," Canidate said. "I tip my hat to them. The backs, including myself ... I've got a long way to go to be the Trung of old."
All told that the UA running backs racked up 273 rushing yards. Canidate sat out the second half after tendinitis flared up in his knee, but he said he was fine after the game.
In his place, junior Leon Callen had 60 yards on 10 carries, redshirt freshman Leo Mills had 50 yards on eight carries and true freshmen Larry Croom and Lance Briggs, had 23 and eight yards respectively.
Throw in 21 yards rushing from UA junior quarterback Ortege Jenkins and the Wildcats obviously had little trouble running the ball against MTSU.
"We always would like to be able to run the ball and more times than not, it determines whether you can win or not," UA head coach Dick Tomey said.
Last night, it was all Arizona needed to overpower the Blue Raiders who were undersized and outmanned by the Wildcats' offensive line.
"That was our main focus to come in and be physical," Canidate said. "It starts up front, if you've got holes up there like we did tonight you're going to do well. But we're going to have to upgrade it in the future."
While the running game pounded it out against MTSU, senior wide receiver Dennis Northcutt was a one-man highlight reel.
With his first reception of the game, Northcutt broke Theopolis "T" Bell's career reception record of 153 along with setting another UA record for catching a pass in 33 straight games. Northcutt ended the game with five catches for 40 yards, pushing the UA record for receptions to 158.
"It felt good, it really did," he said. "I think it was one of the goals (I set) that I've accomplished. I've got many more but I'll enjoy that one tonight."